Ecosystem
9 of the best restaurant POS systems in the MENA region
By Sarah Al-Waleed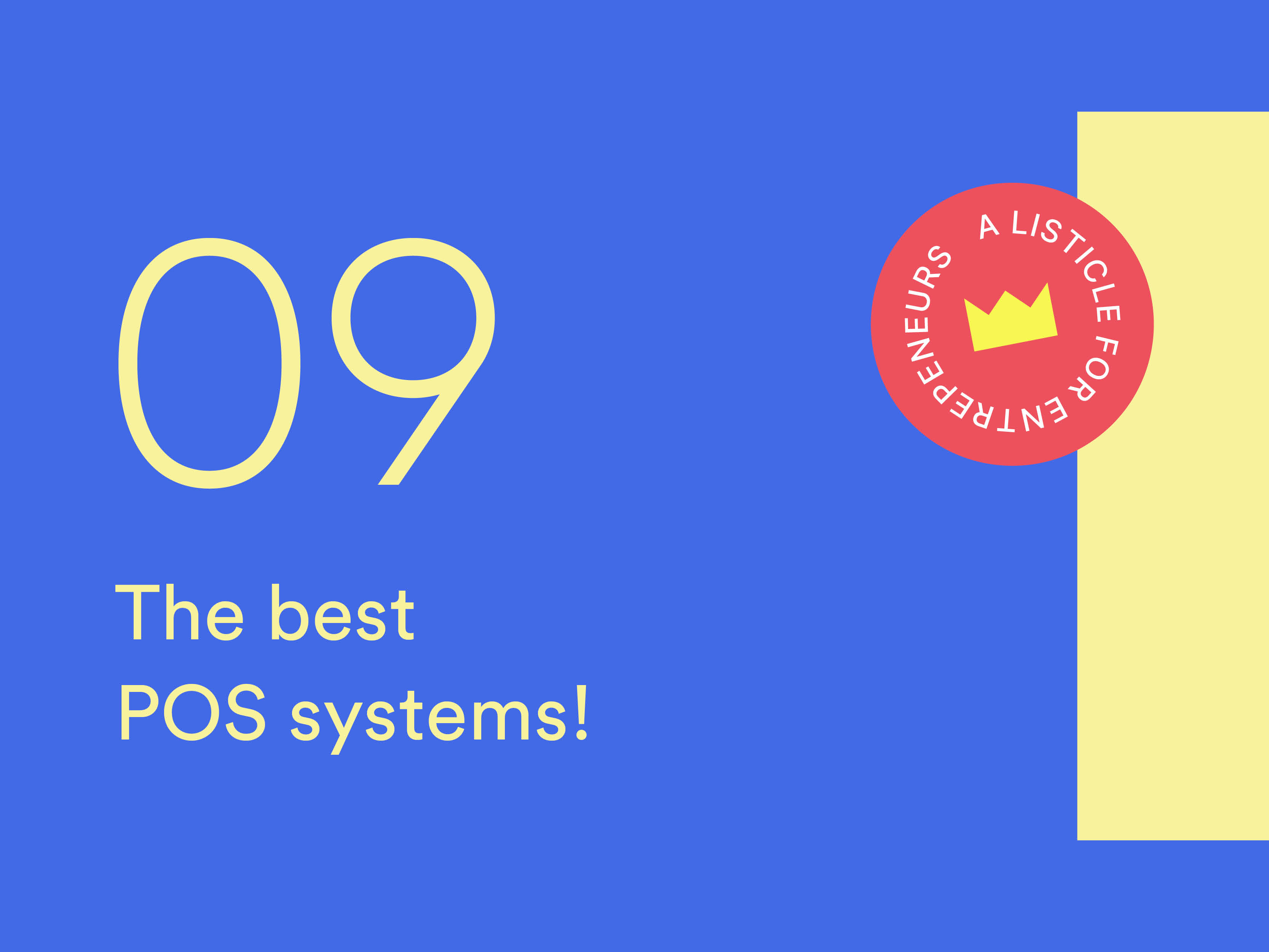 What is a point-of-sale (POS) system?
A point-of-sale (POS) is a system that allows businesses to accept payments from customers for goods and services in person or online. It's a combination of hardware and software that accepts payments, prints receipts, and tracks sales.
Restaurant POS systems can either be cloud-based, meaning they operate remotely on the internet, or in-house-server-based, meaning they operate on an on-location server.
POS systems have evolved over the years. They have gone from being unaffordable to affordable and from providing only paper receipts with little information about customers' orders and payment details to providing mountains of customer data, recording sales information, and tracking inventory.
Nowadays, POS systems offer additional features such as third-party integrations, giving you access to delivery services, loyalty programs, consumer-targeted marketing campaigns, and many more.
But, with so many POS companies to choose from, how can you decide which one will efficiently satisfy your business needs?
Here are 9 restaurant POS systems to get you started
1. Foodics
2. NCR's Aloha Restaurant POS System
3. Micros
4. Odoo
7. Tcpos
8. Sapaad
9. Touche POS
---
Overview
Foodics POS is an all-inclusive restaurant management solution. Foodics was established in 2014 and headquartered in Saudi Arabia, with offices in Egypt, Kuwait, and the UAE. It serves over 22,000+ restaurants in more than 17 countries.
This POS system is compatible with various platforms and is available in English, Arabic, and French. It is a one-stop shop for Food & Beverage businesses that helps manage all operations from orders to inventory on one platform.
Foodics's POS system offers numerous features, some of which include the following:
Customer Relationship Manager (CRM)

Menu Engineering

Real-time Reporting

Inventory Management

Supplier Management, Purchasing, and Transfers.

Multiple Payment Methods (credit, debit, Mada, Apple pay, gift cards, and others)

Third-party App Integrations.

24/7 Customer Support

Delivery Zones

Coupons
Other Products and Add-ons
Gift Cards and Promotions

Loyalty Programs

Web Cashier

Delivery Aggregators

Warehouse

Marketplace Apps

Foodics Enterprise

: This product is tailor-made for Big chains; it helps manage numerous branches easily and efficiently from one platform.

One:

A compact POS solution for smaller businesses. It enables them to sell from anywhere using a single device with a built-in cashier, printer, and gateway.
Clients
Foodics clients include big names in the hospitality sector, such as Little Caesars, Freshii, Starbucks Coffee, Buffalo wings & rings, Cinnabon, Galitos, The Crepe café, KLC Virtual restaurants, Burgerizzr, and Eric Kayser.
Other Business Types Foodics Serves
Foodics supports all food businesses – coffee shops, local pizzerias, cloud kitchens, kiosks, food trucks, multi branches, and fine dining restaurants. It also serves businesses like laundromats, barbershops, florists, and small groceries.
Foodics offers various packages to accommodate the needs and size of any business. They can be paid either monthly or annually.
The Starter pack- SAR 199/month

The Basic package- SAR 375/month

The Advanced package- SAR 417/month

The Enterprise Package. The Enterprise package is a personalized POS bundle with a Foodics advisor for big chains.
Reviews
Foodics POS continues to receive glowing reviews from satisfied customers, some of which include:
"It is an excellent and complete software. All absolutely everything in one system, allows you to manage all aspects of your restaurant. It has a great application that helps you in every way, very easy and very practical." Fernando O, g2
"you can have all the things you need to give an excelent service in one software." Alexander R., Capterra
Overview
This company was founded in 1884 and today is one of the leading POS software providers. NCR's Aloha restaurant POS system is one of the many products of NCR Corporation – a tech company based in Atlanta, GA.
The POS system gives you everything you need to manage your restaurant's operations successfully. NCR's Aloha restaurant POS system is currently available in Saudi Arabia.
Features
Aloha restaurant POS system is an easy-to-use platform that makes digital ordering a breeze. Its core features include the following:
Payment Processing + EMV

24/7 Customer Care & Onboarding Support

Email marketing

Basic Loyalty

Restaurant Grade Hardware

Online ordering

Mobile App and Analytics
The Aloha POS solution is used by over 100,000 restaurants worldwide to drive sustainable growth, create memorable guest experiences and run their operations. Restaurant owners can choose from two solutions – Aloha Cloud and Aloha Essentials.
The Aloha Cloud package suits restaurants interested in a simple cloud-based solution. However, The Aloha Essentials package is ideal for restaurants that want a more robust POS system with on-premise and off-premise restaurant management capabilities.
Therefore each package comes with specific features according to business needs. There are also optional add-ons like online ordering, gift cards, business intelligence, and advanced reporting, among many others.
Other Products and Add-ons
Contactless Order & Payments via QR Code

Advanced Reporting & Business Intelligence

Gift cards

Advanced Loyalty and Marketing

Kitchen Production

Digital Signage

Payroll and Labor Management

Inventory Management

Delivery Marketplace Integration
Clients
Many prominent corporations in the F&B industry currently employ the Aloha POS system, including Firehouse Subs, Chipotle Mexican Grill, Montana Grill, and many more.
Pricing
NCR Aloha POS offers trial/premium subscriptions with paid plans starting from $99.00/month. NCR Aloha POS doesn't offer free plans, but a trial allows you to try the solution before opting for a paid subscription.
Of course, there are optional add-ons that you can include in your package for a small fee.
Reviews
"Love that I can manage various aspects of my business-from point of sale, to inventory, and everything in between- via a single platform" Trishna P., Capterra

"The system is easy to manage and navigate. I always get the correct numbers and that is the important part of POS. I clear the lines at the store very quickly and customers love it." Leilani H, g2
Overview
Oracle MICROS POS (Simphony) is a popular solution in the hospitality industry, especially with restaurants. As a global leader in POS hardware, software, open integrations, and innovation, Oracle MICROS maintains a 40-year tradition of excellence in consultation and support services for its cloud-based and on-premise POS customers.
Micros POS is available in 180+ countries, including the MENA region.
Features
Simphony POS for restaurants has gained a reputation as a reliable POS software offering peerless solutions. With Simphony POS, ordering is intuitive, kitchen communication is instant, and updates to daily specials, menu details, and personalized promotions are delivered to each touchpoint automatically. It's compatible with almost all devices – PCs, laptops, and hand-held devices.
Features include the following:
Online Ordering and Delivery

Oracle Payment Cloud Service

Conversational Ordering

Real-Time Table Management

Reservations and Wait Lists

Custom Look and Language Support

Integrations Ecosystem

Other Products and Add-ons

Multichannel Kitchen Displays

Hardware Add-Ons

Reporting and Analytics

Inventory Management

Gift and Loyalty Programs

Labor Management

Menu Management




Clients
Micros POS clients include famous names like Dunkin' Brands, Starbucks, TGI Fridays, MAX Burgers, Outback Steakhouse, and hotel chains like Scandic Hotels.
Other Business Types Simphony POS Serves
Its clientele is spread across various industrial sectors, e.g., hospitality, Food & Beverage, and retail. This POS software is widely used to optimize operations in bars, casinos, stadiums, arenas, and transportation hubs like cruise ships, not to mention retail stores.
Pricing
The prices vary depending on the size of the restaurant and are as follows:
The Essential plan (suitable for small restaurants, cafes, and bars) is $55

The Plus plan (ideal for franchises, multi-location, and big hotels) is $75

The Single Quote is for a tenant who wants to run the POS on their technology.
Reviews
"The software once configured and implemented is easy to use, it's heavily customisable, allowing the ability to adapt for changes within the business and products. The ability to update the software from the enterprise level out to all Properties\Workstations, is a convenient ability to have when managing a fleet of stores and POS terminals It ties into its own reporting system and the MyMicros App makes store sales checking a breeze" Christian, Softwareadvice
"The POS layout is very well setup for ease of use, the wording and descriptions are simple and easy to understand for all our staff members" Marlon M., Capterra
Overview
Odoo was founded in February 2005 in Belgium by Fabien Pinckaers, the CEO. Odoo is an innovative POS system designed to unleash your restaurant's growth potential. Odoo's global headquarters are in Utah, the USA, with branches in the Middle East (Dubai), India, Canada, Australia, Singapore, and New Zealand, among other countries.
An interface designed for productivity

A Birds-eye view of your restaurant (Floors & tables manager)

Compatibility with any hardware (No installation and no specific hardware required)

Online or offline availability (Odoo's POS stays reliable even if your connection is not)

Integrated Inventory management

Payments (Multiple payment methods, offline payments, and invoicing)

Restaurant management (Order history, daily sales, and cash flows)

As a web-based application (can be deployed on any device and is supported by all operating systems – Windows, Linux, Android, iOS, and Apple OSX.)
Other Products and Add-ons
Loyalty programs

Integrations with other Odoo Apps (Email marketing, sales, and e-commerce)

Customer relationship management (CRM)
Clients
Here are some of Odoo's clients; Nor Noyau (a luxury chocolate supply company) in Kuwait, MS Standard (cookware manufacturing business) in Egypt, Abuba Steak (a restaurant) in Indonesia, and Coffee Selection (restaurant) in UAE.
Other Business Types Odoo Serves
Odoo business software has gained popularity across various industries like mining, retail, real estate, manufacturing, logistics, etc.
Pricing
Odoo packages depend on the number of users, the apps you pick for your business, the extra integrations your business needs, your hosting type, and the implementation service. App prices start from $20 per month, while the additional integrations cost between $12 and $32.
Reviews
"The best part about Odoo is its open-source software which you can download and run on your private server, which makes it more secure and reliable. Odoo comes with integrated apps for CRM, eCommerce, accounting, PoS, and project management. The software is easy to implement with detailed documentation and active community support." Nabin, Softwareadvice
"Feature rich, expandable multipurpose POS" Jacqui L, g2
Overview
Founded in 2001 by Steven Rolfe and Nick Williams, pointOne had one aim, to develop and deliver innovative EPoS solutions and tools, all backed up by outstanding support and project delivery.
Features
Integrated Payments - ensures convenience and flexibility for business owners and customers. As a business owner, you save time using PDQs that simplify payments and accuracy.

Table Management and Reservation - improves flexibility by allowing business owners to adjust their table plans promptly and simply. It integrates with top reservation software like Avenista and ResDiary.

Menu Management - allows you to control the menu through a centralized system that frequently updates and offers upselling opportunities to business owners. It facilitates granular control and delivers actionable insights.

Security, Staff scheduling, and T&A - ensures the safety of business sites, assigns various levels of staff permissions, creates a work Rota for employees, and monitors employee attendance and use of time.
Other Products and Add-ons
Customer-led approach to integrations

- offers you loyalty, marketing, accounting, and delivery integrations with trusted partners.

Customer Loyalty Programs

Reporting and Analytics

Online Ordering

EPOS Hardware
Clients
Some of pointOne EPos's clients include CAMINO, Pizza Union, Simmons Bars, and The Lucky Onion, among many others.
Other Business Types pointOne EPos Serves
The company has positioned itself as a market leader and ePOS specialist in the past two decades. It serves players in various hospitality sub-sectors, e.g., casual dining, quick service, take-away, hotels, coffee shops, multi-site operators, theaters, pubs, and bars.
Reviews
"Such speedy help: efficient and ensuring they get everything how you want it to be. Nothing is too much trouble or takes too much time. This is the most straight-forward system I have used and makes reports ridiculously easy to get just what you want and need. Brilliant system; brilliant service." Jo W., nicelocal.co.uk

"We have used PointOne for our EPOS since 2014 and they have been great! Any problems are always solved quickly by the support team and nothing is ever too much trouble. Thank you guys!" Owen T., nicelocal.co.uk
Overview
Founded in 2018 and headquartered in Dubai, UAE, Iiko's Syrve is a cloud-based restaurant POS system that facilitates many business functions and is the POS system of choice for over 45,000 Food & Beverage companies worldwide.
Features
The following features allow restaurant owners to save time, eliminate errors & inefficiencies, increase precision & productivity, and speed up all processes for scalability.
Inventory Management

Financial Management

Loyalty Programs

Sales Forecasting

Digital Purchasing

Reporting and Analytics

Unlimited Customer Database

24/7 Customer Support

Third-party Delivery Integrations (Talabat, UberEats, Jeebly, and many more.
Other Products and Add-ons
SyrveNano: A POS for small businesses.

SyrveWallet: An electronic card on the phone of guests.

SyrveWaiter: Mobile App that helps waiters take orders at the table.

Self-Ordering Kiosk
Clients
Syrve POS'S clients include famous local and global large restaurant chains and small businesses, such as Papa John's, Dunkin' Donuts, Carl's Jr., Cinnabon, Baskin-Robbins, and Auntie Anne's, among others.
Pricing
Syrve is a subscription-based POS system that requires users to subscribe monthly to access its services. The company offers three packages which are SyrveStart, SyrvePro, and SyrveEnterprise.
SyrveStart is an all-in-one suite for startups and costs 250 AED/Month.

SyrvePro has advanced features for restaurants and costs 350 AED/Month.

SyrveEnterprise is a customizable solution for big business and costs 450 AED/Month.
Reviews
"It was really easy to learn how to work in that program for our staff. The bookkeeping documents are also suitable for us" Alena, Softwareadvice.
Overview
TCPOS was developed in 2004. Now, it's a multifunctional POS system whose main selling points are ease of use and customizability. It's the brainchild of the Zucchetti Group, which was founded in 1978 and headquartered in Lodi, Italy. The company operates via an assistance network comprising over 1100 locations in Europe, the Americas, and the MENA region.
TCPOS's core strategy is to translate point-of-sale data into a flexible point-of-service to enhance the customer experience online, in-store, and mobile.
Features
TCPOS iCore POS has several features that make it the best option for players in the hospitality industry. These features include
User-friendly interface - learn to use it quickly, eliminating time-consuming and expensive training. Installation and configuration are easy, just like any everyday operation.

All payments accepted - Cash, credit, and customer cards, including the latest innovative payment methods: cashless, contactless, mobile, and digital wallets on smartphones.

Offline functionality - In case of a network failure, TCPOS operates in offline mode.

Data Control - Supports the administration of master data, control of sales, price changes, creation of articles, and adjustment of user interfaces. The system has integrated rights management and provides comprehensive reports.

Handles multiple languages and currencies whilst respecting tax regulations in force in each country.

Mobile Transaction - By using handhelds in your restaurant, you can exploit mobility to speed up the service to your customers, simplifying the communication of information between operators, the kitchen, and different production centers.

Multiple Device Compatibility - It operates on cash terminal touch screens, smartphones, and tablets.

Third-party Integrations.
Other Products and Add-ons
Loyalty Programs

Inventory Management

E-commerce

Reporting
Clients
TCPOS's clients include Costa Coffee, Kneipp, Eataly, and Novae Restauration, among many others.
Other Business Types TCPOS Serves
TCPOS caters to various markets, such as retail, restaurants & hotels, travel, stadiums, and entertainment. Examples include Lagardere Travel Retail, Insel Gruppe, Studierendenwerk, and Kantonsspital St. Gallen.
Overview
Sapaad is a leading SaaS (Software as a Service) company that offers powerful cloud-based POS and business management systems. It was founded in 2015, and its headquarters are currently in Singapore, with field offices in The US, The UAE, and India.
Features
Sapaad's all-in-one cloud-based restaurant POS system provides you with everything you need to manage your entire restaurant on one platform. Its features include the following:
A user-friendly interface to help you easily and instantly serve your customers

Compatibility with all web browsers, Android devices, and iOS platforms.

Table Management

Reporting and Analytics

Kitchen Display System

Payment Integration with the most secure payment gateways worldwide.

Third-party integrations with leading food ordering platforms & delivery partners.
Other Products and Add-ons
Online Ordering

Inventory Management

Integrated CRM

Loyalty Programs
Clients
Sapaad's POS has an extensive client list, including Johnny Rockets, Sumo Sushi & Bento, Chili's, Häagen-Dazs, Entrecôte Café de Paris, and many more.
Pricing
This restaurant POS offers an affordable pay-as-you-go model to restaurants worldwide. A standard Sapaad POS subscription for one outlet begins at US$53.99 per month (billed annually); for two outlets, the price is US$96.99. You can choose the add-ons you want for Inventory, CRM, Online Ordering, and Loyalty.
Reviews
"Very easy to use and no special training required to learn Sappad. It is a fully integrated and a fully automatic system. Compact and very user friendly. Service provided by Sappad is excellent." User in Food & Beverages, g2.

"We run our entire delivery and online ordering operations with Sapaad. Sapaad has been significant in streamlining our operations right from setting up a central call center and building a master CRM for all our 15 locations. They also have a strong support team on ground. They really take ownership of what they do. Any problem is resolved within a matter of minutes." Shafeer, Softwareadvice.
Overview
Touche is a smart technology POS system for single and multi-chain food and beverage players in the hospitality industry. The parent company Prologic First was founded in 1997 and is headquartered in Gurgaon, New Delhi, India. It has offices in The UAE, Qatar, Saudi Arabia, India, and the UK.
Touche is currently the POS of choice for over 2000 businesses in the hospitality sector across 38 countries.
Features
Compatible with any touchscreen-based Windows hardware.

Rapid order entry

Kitchen coordination

Accounting and settlements.

Course-wise & cover-wise order taking

A-la-carte & carté menus

Easy to configure and learn

Operational and analytical reports
Other Products and Add-ons
Contactless ordering and bill settlement

Mobile POS

Repeat Dinner Profiles

Loyalty accounting

Home Delivery Call Centers

Central Reporting

Third-party Interfaces
Clients
Its list of clients includes notable names like Trader Vic's, Wagamama, Foo Asian Tapas, Radisson Blu, Emporio, Habtoor Grand Resorts, and Armani, to mention a few.
Reviews
"Excellent Application for my Restaurant. helped me lot. Very nice rich reporting" Anil, Softwaresuggest

"time saver" Mahesh Mahajan, Techjockey
Summary
The MENA region is one of the fastest-growing markets for restaurants, here are nine more POS systems that can power your business.

And, whether your business does quick-serve, dine-in, takeout, or fine-dining, there will always be a pressing need for POS systems to streamline your operations, raise productivity and increase profits.
The challenge is picking the POS system that best suits your business needs. You just need to determine your search parameters, such as your business's size, budget, target audience, and which features are priorities for your business. After that, you will be well on your way to enjoying higher ROIs, smoother operations, and overall success.

And in today's digital world, it is essential to be available online. Restaurants should integrate their POS with their online ordering platform to ensure having all their offline and online data connected in one place. There are so many ways to receive orders online, but they're not equally rewarding. Finding out what works best for your restaurant depends on its maturity as a business and the size of its operations. We have created a guide with the best online channels for selling food to help you get started.