Ecosystem
Top Restaurant POS Systems in the MENA Region for 2023
By Sarah Al-Waleed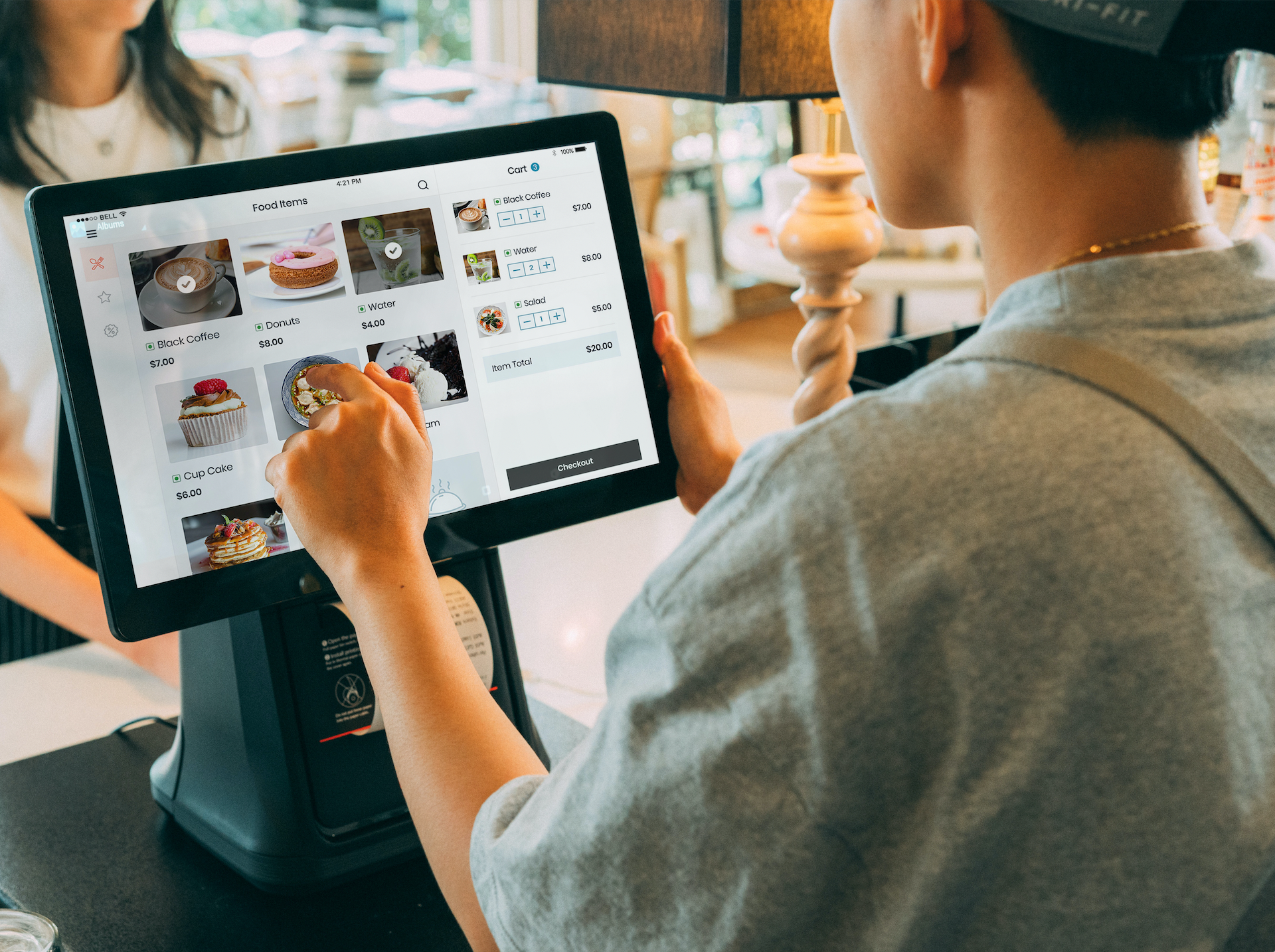 We realize how vital POS systems are for your business, so we decided that we wouldn't rest until we got you even more point of sales options to choose from. That said, and without further ado, here are nine more options for your consideration:
1. Hippos
2. CompuCash
3. Lenovo POS
6. MicroSys Technology Company
7. Centrix
9. Tilby
Let's get to know these systems better

Overview
Hippos is a cloud-based, on-premise installation POS solution with a web portal that can be operated online or offline. Established in 2014 by Hippos Software Inc., the company's headquarter is in Brampton, Ontario.
Hippos offers a practical and intuitive design, integrated web ordering, comprehensive inventory tracking, and time and attendance management—all wrapped up in a convenient package. It's easy to use, with a user-friendly interface that makes it easy to view reports or update inventory.
Features
Order Management

Sales Reports

Inventory Management

Loyalty Program

Multi-Location

Inventory Management

Employee Management

Third-party integrations include Uber Eats, WooCommerce/WordPress, DoorDash, Skip the Dishes, Ackroo, QuickBooks Online, and Moduurn.
Other Products and Add-ons
POS Hardware

Payment Processing Integration.

Loyalty Card & Gift Card Integration.

Leasing & Financing Options.

Software Integrations - Configurable API

Discount Management
Other Business Types Hippos Serves
Most businesses supported by Hippos are establishments in the food and beverage industry. However, they also offer their services to retail businesses such as pharmacies, convenience stores, specialty stores, and service-based businesses such as spas and salons.
Pricing
Hippos POS pricing is $49/month/terminal for retail/service establishment, $59/month/terminal for quick-service restaurants, and $69/month/terminal for full-service restaurants. They don't offer a free trial; however, you can request a demo.
Reviews
"We would highly recommend HIPPOS to any restaurant owner. HIPPOS is an easy-to-use POS system with an amazing tech support team." - Kim Heseltine, Facebook.
"Hippos has been so great to work with! A user-friendly, easy-to-operate system, easy to train staff, and completely customizable! Their support team has been fantastic, easy to work with, and quick to respond. Would recommend this for any small food business!" – Karen Steckley, Nicelocal.

Overview
CompuCash was founded 30 years ago in Estonia. Today, CompuCash caters to the UAE-based business community with its operations centered in Hamriyah Free Zone, UAE. CompuCash has become one of the best POS systems dedicated to online/offline businesses. It offers its customers a safe, secure, quick, and straightforward way of managing their operations.
CompuCash is an integrated restaurant POS software solution designed to help restaurant owners or managers save money by eliminating multiple disjointed systems. The program's cloud-based architecture also means that any updates are delivered instantaneously, and any information can be accessed anywhere, anytime.
Features
Order & Inventory Management.

Integrated QR Menu and Smart Ordering.

Sales Promotions

Customer Relationship Management (CRM).

Dashboards on any Microsoft Windows, Android, or iOS device keep you updated when on the go.

Advanced Reporting & Analytics.

Offline Mode.

Third-party delivery integrations through Deliverect include Talabat, Deliveroo, Zomato, Carriage, and many more.
Other Products and Add-ons
iOS and Android-compatible POS hardware.

Customizable APIs.

KDS Kitchen Display.

Call Systems.

Video Surveillance.

Access Control Systems.
Clients
Right Bite, Bio Market, The Mail Room, Tallinn Zoo, Andiamo Bistro, Meresuu Spa & Hotel, Feryal Albastaki, Sea Hawk, and many more.
Other Business Types CompuCash Serves
Other business types using CompuCash's POS software solutions include sports clubs, spas & recreation centers, retail & outlets, and bars & nightclubs.
Pricing
Their pricing options are flexible, depending on the package and the number of features you choose. All you have to do is fill in your details, and they'll be in touch. They also offer a demo on request.

Overview
The first thing that comes to mind when thinking of Lenovo is the quality of their products and how they endure through time. I am confident you know someone who owns a Lenovo laptop, tablet, or smartphone who can speak to their quality. But did you know that Lenovo also offers POS solutions?
Lenovo Retail Solutions unifies the power of hardware, software, and services to pragmatically deliver an experience that is the future of the hospitality industry. They help you get the most out of your business and arm you with state-of-the-art capabilities and solutions to improve efficiency, productivity, and profitability.
Features
Mobility and e-payment

Inventory Management.

Reporting & Statistics.

Multi-Location.

Order Management.

Activity Dashboard.

Alerts/Notifications.

Premium Customer Support

Affordable Integrations and plug-ins include payment processing, advertising, accounting, and marketing.
Other Products and Add-ons
Self-Service Kiosks

Electronic Shelf Labels and Digital Signage.

Store Experience Analytics.

IT Infrastructure.

IT Store Support.

Servers.

AR/VR.

Networking.
Other Business Types Lenovo Retail Solutions Serves
Lenovo offers its retail solution to an array of businesses, including retail, hospitality, pharmacies, gyms, leisure parks, libraries, and petrol stations
Pricing
Lenovo Retail Solutions' product prices are quoted on request. All you have to do is submit your email, then a member of their team will get in touch with you.
Reviews
"One of the best things I like about Lenovo Retail Solutions is that it helps my business grow. In a small business, many operations start manually and use ad-hoc processes using Excel spreadsheets. With Lenovo's retail solutions, all of the business sales, customers, inventory, and employees are in a unified system. It identifies opportunities such as top-selling products for margin improvement, inventory waste, satisfied customers, and so on." – Viksa A.

Overview
Penygon Arabia has been championing the design and provision of POS systems in the Middle East since 1991. They take pride in building advanced software solutions and providing IT services that are dedicated to each customer's requirements. The company headquarters is in Jeddah, KSA.
Penygon's proprietary POS system, Cielo Foodies, employs the latest communication, technology, and design tools to bring you state-of-the-art solutions for managing your restaurant. Their advanced products have been rigorously field-tested and are fully proven in many diverse business environments.
Multi Restaurant.

Table Allocation.

Structured Menus.

Inventory Control.

Restaurant Dining, Take Away & Delivery.

Discount Cards.

Staff Attendance.

Cashier Reports, Statistics & Illustrations, Management Reports.

Data Security & Access Control.

Third-party delivery integrations through Deliverect.
Other Products and Add-ons
Consultancy.

Web Design & Development.

Software Products.

Data Center.

Call Center.

Mobile App

Waiter App

Kitchen Display System
Clients
Sultan Delight Burger, Lallo Ristorante, Green Shara, Bafarat, Arwana, Abu Zaid, O' my Buns, McDonald's, Toasted, and Sultana SeaFood.
Other Business Types Penygon Arabia Serves
Penygon Arabia serves a wide array of businesses. They include financial institutions, technology companies such as Microsoft and Oracle, multimedia companies, real estate companies, and administration-based businesses.
Pricing
Penygon Arabia has a customized pricing model, and pricing is determined by the type of business, the solutions required, and the size of the business.

Overview
Checkout Point FZCO is a Fin-Tech company operating in GCC since 2013. They have a robust background in value-added enterprise solutions & applications. Their venture into cloud-based solutions and shift toward SaaS (Software as a Service) led to the creation of Checkout Point FZCO.
Their restaurant POS software, Lazeez, helps restaurant owners enhance the customer experience and streamline business operations, including sales, cash flow, food inventory, and bookkeeping. Currently, they operate from SUNTECH Tower in Dubai, UAE.
Features
Cloud-Based Solution.

Built-in Barcode Scanner & Printer.

Integrated Payments.

Dashboard.

Table Management (Dine-In).

Digital QR-Based Menu.

Catalog Management.

Multiple Menu.

Kitchen Display System.

Coupon Systems

Extra Payment Types

24/7 Customer Support

Reports
Other Products and Add-ons
A. Add-ons
Food Aggregator Integrations - Through Deliverect, such as Zomato, Talabat, Careem, Deliveroo, Raydes, and Chatfood.

Smart Payment Options

E-Wallet
B. Integrated account ERP
Inventory Management

Financial Accounting

Data Analytics

Business Intelligence Applications.




C. POS Hardware
Clients
Al Mada Café, StarFoods, Fleur, Merich Global, Oasis Cuisines, Dunkin Donuts, Tasty Foods, HumYum Restaurant, Kabab Karachi, and KarakBabu.
Other Business Types Checkout Point Serves
Checkout Point also serves small and medium-sized retail establishments, convenience stores, and distribution-based businesses.
Pricing
Their pricing model is customized into three packages. The Base package goes for AED 99/month, the Growth package goes for AED 169/month, and the Enterprise package goes for AED 259/month. You can also request a demo before making a purchase.
Reviews
"The Poynt Terminal added elegance to our sleek design of QSR. Being able to pay in any mode hassle-free improved the satisfaction of our customers." – Not A Space.
"The team was supportive even in the post-deployment support. The Poynt POS terminal and POS application made it easy to run my café." – Wrap That Café.

Overview
The company was founded in 2006 to provide information technology solutions on the latest emerging technologies at a competitive price. Today, MicroSys is among the best hospitality and retail POS systems providers in the Middle East.
Micro Events Point Of Sale system is an integrated solution that fits into quick service, delivery, dine-In, fine dine-In, and casual dine-In restaurants as well as retail segments of the business.
Features
Runs on OPOS-compatible Touch terminals.

Supports Kitchen display and kitchen Printing subsystem.

The food cost management feature calculates theoretical and actual usage and accurately reports the usage variance.

Third-party integrations (Deliverect for delivery services coming soon)
Other Products and Add-ons
Call Center

ERP Software Tools
Clients
Subway, Domino's Pizza, Cinnabon, Zaatar W Zeit, Kcal, Nestle Toll House Cafe, and BreadTalk, among many others.
Other Business Types MicroSys Serves
MicroSys has been providing its services to various industries, such as data centers, construction, engineering, oil and gas, power generation, transportation, hospitality, retail, and manufacturing.
Pricing
MicroSys's prices are quoted on request. All you have to do is contact them via phone or email, and a member of their team will get in touch with you.

Overview
Founded in 2001 by the UBA Group, Centrix Systems is a software organization with offices in Amman, Jeddah, and Riyadh. It offers a web-based software solution called Centrix POS. Centrix POS is a competitively-priced restaurant management software with a centralized database, a customizable interface, and full-fledged applications.
Features
Records items sold, discounts, and customers' data.

Simplifies transactions without compromising security.

Creates Loyalty programs powered by Centrix CRM.

Monitors purchase trends and creates programs targeting different client groups with different preferences.

Creates personalized promotional messages that can be sent to specific clients at specific times instead of using mass Email and SMS platforms.

Third-party delivery integrations through Deliverect include Talabat, Deliveroo, Zomato, Carriage, and many more.
Other Products and Add-ons
Accounting

Inventory Control

Customer relationship management (CRM)

Mobile Application Development
Clients
Coca-Cola, Snax, Kia Motors, Khaberni Real Estate, TAJ, MTN, and Mlabbas, among many others.
Other Business Types Centrix Serves
Some of the businesses served by Centrix include non-profit civil society organizations, pharmacies, business parks, and real estate companies.
Pricing
Centrix charges $49/month for their Starter package, $79 for the Standard package, and $109 for the ultimate package.

Overview
BIM POS provides a full spectrum of point-of-sale, ERP (Enterprise Resource Planning), and IT solutions for hospitality and retail management. It was founded in 2018, and its headquarters are in Business Bay, Dubai.
Their cutting-edge solutions range from front-end point of service and customer service tools to back-office operation management systems.
Features
Allows your customers to track their delivery orders simply upon placing one.

Automatically shows staff what meals or specials the chef is servicing on the day without having to ask.

Sends your clients your weekly, monthly, and quarterly menu with just a click of a button through email or SMS.

Learns clients' buying patterns and preferences and upsells other customers with similar suggestions to buy.

Keeps track of what items will be out of stock soon and which items need to be preordered, making it all operationally easy to audit.

Manages staff time and attendance

Tracks changes from product creation, item price change, password change, item void, exiting the system, and cash drawer opening on no sale, to list a few.

The system is multilingual.

Integrated loyalty allows your customers to gather points or collect punches when ordering.

Third-party delivery integrations through Deliverect.
Other Products and Add-ons
POS Hardware.

Kitchen Management System.

Retail POS.

Peripherals.

Contactless Digital Menu.

Accounting

Mobile Solutions

Self-Order Kiosks

Multi-Concept and Branch
Clients
Wooden Bakery, La Brioche, Ginger & CO, Crepaway, Prunelle, Moulin d'Or, Massaya Faqra, Mama'esh, Dunkin Donuts, Chopsticks, Surgel Gelateria, The Wok, Pacifico, Hawa Chicken, Castania, and Medco.
Other Business Types BIM POS Serves
Besides the F&B industry, BIM also serves different business types, including small to large bakeries, hotel food services, cafes, pubs, bistros, bars, nightclubs, supermarkets, and convenience stores.
Pricing
BIM POS prices start at $29, but you'll have to contact them for full pricing information.
Reviews
"They are one of the best worldwide when it comes to multi-chain restaurants and hospitality businesses. They deliver to bakeries, cafes, pastry shops, and production plants as well because they have customizable interfaces and special modules." – Sameer.
"We have been using it for years and well continue to do so. Major features are released on a regular basis. fully integrated system between head office and branches; All modules are fully functional in addition to a huge reporting system allowing us to track our business efficiently and successfully." Jocelyne H., Capterra

Overview
Tilby is a cloud-based restaurant POS software developed in 2013 by the Zucchetti Group Company in Turin, Italy. It is available for PC, tablets, and smartphones.
Tilby's innovative cloud POS technology lets you manage orders, inventory, reservations, and receipts, making e-commerce simple. Thanks to its features, restaurant owners now have quick access to accounting, statistics, reporting, analytics, and more for all their sales channels.
Features
Sales Figures.

Order Management

Loyalty Programs.

Inventory Management.

Statistics

Advanced Reporting & Analytics.

Table Reservations.

24/7 Customer service
Other Products and Add-ons
Ecommerce Website.

Delivery & Integrated Channels.

POS Hardware.

Online Guides.

Business Analytics.

Third-party integrations:
A. Delivery - Dliverect, UberEats, and Deliveroo, among others
B. Payments - SumUp, SmartPOS Nexi, and SatisPay, among others
C. Marketing - Splio, Smshosting, and Plateform, among others
Clients
Sweetburger, Recreo Bar Sartoria, Osteria Social, and Spiagge, among others.
Other Business Types Tilby Serves
Apart from restaurants, Tilby also serves bookshops, clothes shops, supermarkets, bars, hardware stores, perfumeries, herbal shops, and outlet shops.
Pricing
Their prices start from 39 Euros. However, for a more customizable plan, you can contact them directly to get a quote. You can also sign up for a free trial first.
Reviews
"Simple to use and complete. To try it properly, you need to register on the demo site. Complete, intuitive and you can use it from a landline or mobile phone. Extremely simple billing, integrated with the POS" aleyesure
Putting it all together…
When it comes to POS systems, you have countless options to choose from. So, it all boils down to your selection criteria. And, if you still feel like you need more options, you can check out our two previous POS listicles.