Featured
What is the best online channel for selling food?
By Enas El Masry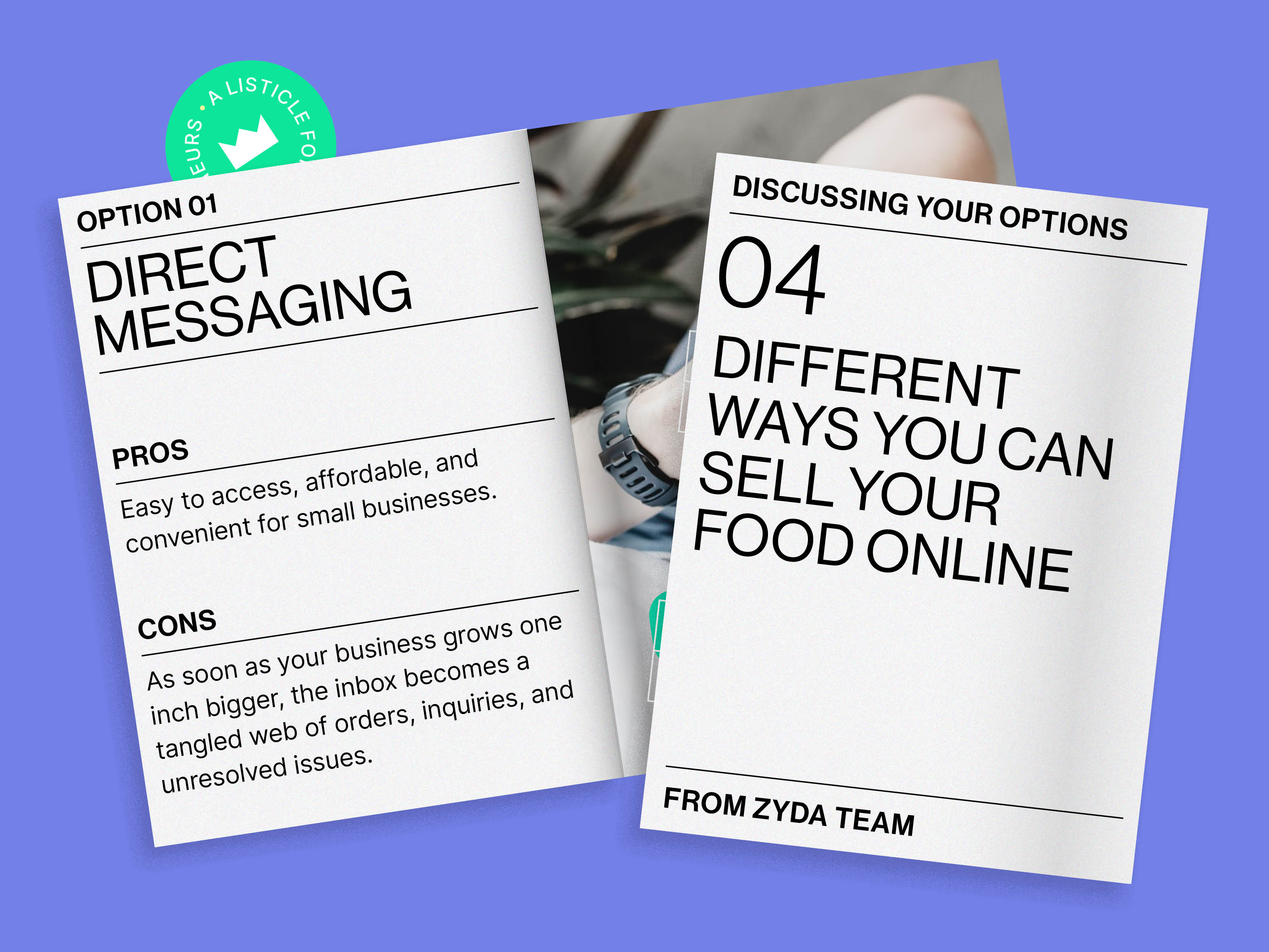 Like it or not, we are now in the internet age. Everything, and I mean everything, is online. Restaurants become famous on Instagram, journalists Tweet about their stories, employees share their promotions on LinkedIn, and songs become famous on Tiktok... the list doesn't end.
This is not some trend or fad that's dying out; this is the world as it is and is going to be for a long time.
You need to become digital.
Time for a Change.
We are resistant to change. It's in our nature. It's even said that humans only change when staying the same becomes more painful, often when it's too late.
That is unless a drastic event shakes the very ground we stand on.
In 2020, a global pandemic swept the globe, forever changing the consumer-market relationship. Within four months of the pandemic, half of the world's population was in lockdown. Governments ordered non-essential businesses to shut down. Brick-and-mortar stores and restaurants lost their physical connection with their customers and community.
Moving online was the only way anyone could stay in business.
How did COVID-19 alter the shopping dynamics?
Since the COVID-19 outbreak, 49% of shoppers globally said they were shopping online more often than they used to. On a similar note, 80% of MENA youth considered themselves regular online shoppers - up from 71% in 2019.
According to a joint report by MIT and Wamda:
"Before the pandemic, online shopping accounted for just 2% of the retail market in MENA, but it was gaining momentum and by 2017 had reached a value of $8.3 billion, up from $4.2 billion in 2015.

"By the end of 2020, the e-commerce sector had reached a value of $22 billion, with the bulk of this growth being driven by the UAE, Saudi Arabia, and Egypt, which together accounted for 80 percent of the region's overall e-commerce market."

As life slowly returns to the pre-lockdown norm, the preference for online ordering seems to persist. A Kearney Middle East report forecasts e-commerce in the GCC to grow into a $50 billion industry within five years from the outbreak.
So, with this in mind, how exactly does a restaurant sell online?
Not All E-Commerce Channels Are Created Equally
There are so many ways to receive orders online, but they're not equally rewarding. Finding out what works best for your restaurant depends on its maturity as a business and the size of its operations.
Some of the available means to sell your food, drinks, desserts, or pastries online are as follows:
Direct messaging (DM)
We all have this distant aunt, let's call her Nabila, who is so good at a specialty dessert or dish that she starts selling it to friends and family. Once upon a time, such businesses would have grown via word-of-mouth or knocking on doors.
Today, home-grown F&B businesses thrive on social media and messaging applications.
Seeing how social media platforms and messaging apps are easy to access and maintain, they are a favorite launch pad for small businesses. Despite this method's many perks, it is neither sustainable nor efficient. As soon as the business grows one inch bigger, the inbox becomes a tangled web of orders, inquiries, and unresolved issues.
If you are uncertain whether your small business will take flight, then keeping it simple is a good strategy. But if you plan on scaling your business, then you might want to consider other options.
Facebook and Instagram shops
Since launching in 2004, Facebook has remarkably matured its virtual community. With each new feature, the app's users found novel ways to express themselves and promote their businesses.
For example, let's go back to our imaginary aunt Nabila from before.
Her business has now grown, and she can no longer just sell through direct messaging, at least not from her personal profile. So, she starts a Facebook page and calls it Lulu's Treats.
Over and above, she's quite active on the Facebook group What's For Lunch Today? where she spreads the word about her heavenly goods.
To streamline operations for Nabila and her likes, Facebook and Instagram recently rolled out their latest feature for businesses: Facebook and Instagram shops.
Through her existing Facebook page, Nabila can set up a Facebook shop without any trouble. Like other e-commerce platforms, it allows Nabila to upload a menu of her desserts that customers can browse. She can also customize the storefront to match Lulu's Treats' branding.
Unfortunately for Nabila, the full-fledged e-commerce experience is only available in the US. To overcome this hiccup, restaurateurs outside the US link their Facebook shops to their restaurant websites. There, customers can place their order, checkout, and complete the transaction.
Food aggregators
Across the MENA region, you may know Talabat, Deliveroo, Carriage, Zomato, Toters, etc.
In the beginning, third-party food aggregators were revolutionary for restaurants and customers alike.
No matter what a customer desires, third-party aggregators offer her endless options at the tip of her fingers. And, this is not to mention special promotions, easy and varied payment methods, and order-tracking services.
Meanwhile, these same aggregators gave businesses more visibility and access to more customers than they could dream of. But, it came at a price that was often too high, especially for small and medium businesses.
Not only did signees pay commissions as high as 30%, but they also couldn't access their own customers' data. Third-party aggregators soon proved to be debilitating rather than empowering.
Despite their frustration, many restaurateurs continued to sell through aggregators for lack of a better option. That is until one presented itself: direct ordering through independent restaurant websites.
Standalone restaurant websites - our favorite method
Having your direct ordering restaurant website is the dream, am I right? No more stifling conditions, no more blood-sucking commissions. And, it's not only restaurateurs' preferred choice, but market studies also show that 70% of customers prefer ordering from a restaurant website over a third-party aggregator.
Creating a website for your restaurant is an investment that promises high ROI. Its benefits range from orchestrating your customers' online journey to retaining their data.
You must be thinking, "So, what's the catch?" Surprise, surprise. There isn't one. Setting up restaurant sites is now as easy as drag-and-drop.
Nonetheless, the spectrum of options is wide and vibrant. Some restaurateurs may opt for the easy and affordable option. Others may prefer to build the entire restaurant website from the ground up. At the end of the day, your business needs and budget will determine your choices.
Does it make a difference whether you build your restaurant website from scratch or plug it into an online ordering platform?
1. Building your restaurant website from scratch
Both approaches guarantee a streamlined online purchasing system. But, if your needs are niche and hard to meet, then you may have to consider building your site.
Though you should know that the process of building a site from scratch is tough and expensive. Here is a quick checklist of the things you would need to consider if you want to build a site from scratch:
Hiring a designer

Hiring a copywriter/editor

Hiring a developer

Sorting out online payments with a provider or bank

Maintaining the site over time

Integrating your site with your POS

Managing plugins
This sounds like a lot of time, money, and effort - and it is. But, is it worth it?
Controlling every detail on your restaurant website can be empowering. Be careful, though, for it can easily turn into an overwhelming burden.
2. Benefiting from an online ordering platform provider

There are several online services, like Zyda, that will provide you with a working website within a few days.
This website will be fully functional, contain your entire menu, and be able to receive and dispatch orders.
Now, while you might not get that high level of customizability that comes with building a website from scratch, you will have a beautiful ordering site that is maintained and updated consistently.
Better yet, your website will come with integrations with other service providers, including couriers and payment gateways, all of which will make your life easier.
And, don't even get me started on the built-in marketing and analytics tools. Even though most platform providers will offer you the basics, including the ability to integrate with Google Analytics, some companies go the extra kilometer and offer you special features, such as the power to create vouchers and to leverage SMS marketing.
To have an independent restaurant website is, hands down, a worthy investment. But it needn't be so hard or demanding, especially when you can set up shop and start selling overnight.
Want to spare yourself the headache? Sign-up for a pre-designed restaurant website preset that you can customize and still make very much your own.