The quick Instagram guide for restaurants
By Sarah Al-Waleed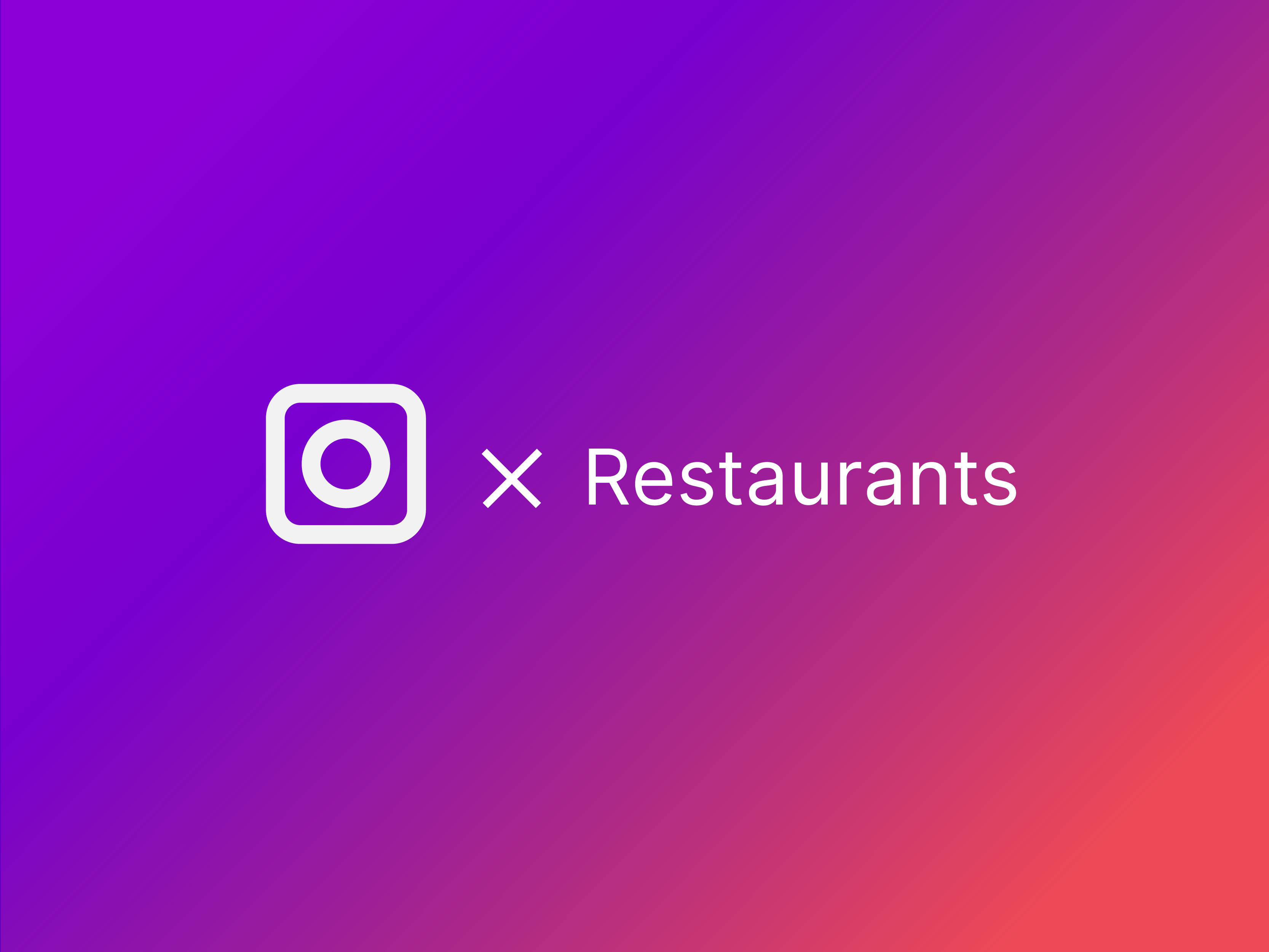 It has been more than a decade since Instagram was launched. Its release was an astounding success, with the company hitting the one million downloads mark in less than 24 hours after it became available on the Google Play marketplace. Ever since, Instagram has grown at supersonic speeds, claiming a prominent spot in the photo-sharing & social networking application circles.
Today, Instagram is the go-to app for people who prefer communicating in a more visual context, primarily on their phones. Its graphic nature and minimalistic design make it a popular choice for many users of all ages.
In the course of Instagram's evolution, it has become a powerful content creation tool that isn't just for personal use anymore. Millions of businesses in the F&B industry are now using Instagram as a marketing tool. It enables them to humanize their content, recruit new talent, showcase their products, and inspire their audience.
What is Instagram marketing?
Instagram marketing refers to using Instagram to grow your brand awareness and launch your products. Instagram allows you to build your brand and connect with followers in a personal way. With an ever-increasing active user base, Instagram is an excellent channel for business owners looking to grow organically.
Why use Instagram as a marketing channel?
Potential Customer Outreach
Instagram hosts approximately one billion active users worldwide. And in the MENA region, Instagram is currently gaining a massive following with 2.40 million users in Kuwait, 18.2 million users in Egypt, 14.9 million users in Saudi Arabia, and 1 million users in Bahrain, in addition to many other countries.
Instagram offers a dramatic reach for restaurant brands. It's a great place to connect with potential customers who are waiting to find you online. Hashtags are some of the best ways of getting your content out there in front of the right people. Just be sure to use relevant hashtags your target audience is searching for.
Visual Content
It shouldn't come as a surprise that visuals are the best way to communicate your message to customers. Visual posts have proven to have 650% higher engagement than text-based posts. And Instagram wins hands-down when choosing a platform for a vivid form of marketing such as videos, images, or illustrations.
A photo or video-centric presence allows your followers to remember your restaurant brand, making them more likely to engage with your content.
Cost-effectiveness
Instagram is 100% free to use unless you decide it's time to advertise on the platform. You can create as much content as you'd like, test it, and continue to use what works, all without spending a penny. Being cost-effective is such an advantage because you can see a greater return on investment and retain a bigger budget for other business expenses.
Purchasing Power
Did you know that a staggering 72% of Instagram users reported purchasing products through the social media platform at least once? This is the kind of purchasing power that Instagram holds. It enables you to convert your Instagram following into customers; their next order could be from your restaurant!
Increased Brand Visibility
Instagram is one of the most efficient digital marketing platforms that you can use to showcase your menu items and increase your brand visibility. Having a well-maintained Instagram presence will significantly increase your brand recognition since you will be engaging with a broad audience of customers. It will also guarantee that a potential customer's first impressions of your business are favorable and memorable.
Customer Data and Feedback
Data = Knowledge = Power. When you use your Instagram business profile, you will be able to obtain demographic data about your followers, such as their age, location, their preferred choices of items, and more.
You can leverage this information to your advantage. For example, you can create targeted marketing campaigns, cross-sell different items, and invest in more branches in areas where there's a growing number of sales.
And, for the Zyda customers out there, those who can combine their Instagram data with the data from their online store, the sky's the limit.

Improved Brand Loyalty
One of the main goals of almost all restaurant owners is to develop a loyal customer base. Instagram gives you the opportunity to interact with your customers online regularly, form a bond with them, and create a sense of community.
An active, engaged organic base of followers helps build social proof that highlights your customer retention ability as a brand. Social proof led by real followers serves as a natural incentive for new audiences to follow your account, fosters customer loyalty, and gives authenticity to your brand story & identity.
How to unleash the power of Instagram Marketing for restaurants?
Restaurant Instagram marketing is all about displaying your restaurant brand's personality while finding creative ways to attract new customers and engage existing ones. Here are 13 creative Instagram ideas to spruce up your feed and engage with your audience.
1. Showcase your dishes
This one is a bit on the nose. You're in the restaurant business, so you must showcase your dishes to entice customers. Whether announcing a new dish or highlighting a popular one, nothing tempts hungry customers more than a mouth-watering picture of an appetizing dish.
And, the good news is you don't need an expensive camera to take good pictures of food. A smartphone camera and the proper technique will help you take professional-looking, high-quality photos to highlight your dishes on Instagram.
2. Post pictures of your restaurant's interior design
Your food and restaurant interiors make the dining experience more alluring. In addition to showcasing your dishes, post pictures of your restaurant interiors. This gives people a sense of your ambiance and plays a vital role in attracting new customers.
Suppose your restaurant has a prime location with an impressive view to offer. In that case, you should share it with your Instagram community.
3. Share stories of your staff
There was a time when staged Instagram content was all the rage, but that's not the case anymore. Today, people value authenticity, and they are more likely to connect with brands that are human and relatable.
One of the best ways to humanize your brand is to share stories and pictures of the people behind the scenes. It can be the owner, managers, chefs, or the serving staff. Sharing this will help you build deeper connections with your customers and increase their engagement with your brand.
4. Share positive customer reviews
The importance of online reviews can't be underestimated because they carry a great deal of weight when diners are looking for a restaurant. And while your own promotional and advertising efforts can bring in new customers, there's nothing better than testimonials from other customers who vouch for the quality of your food. That is the beauty of social proof marketing.
If you do your best to offer excellent customer service, the reviews will speak for themselves. Online reviews are now the equivalent of people recommending restaurants to friends and family. So, when you receive a positive review from a customer, don't hesitate to share it.
5. Promote your restaurant's offers and deals
Making an offer? Running a promotion? Post about it on Instagram.
Make sure you mention the offer in a graphic post, as people are more likely to see it as they skim their Instagram feed rather than stop and read the written caption. Think of creative ways and formats to capture their attention and drive your message home, such as Stories and GIFs.
6. Run contests and give prizes
Running contests and giving prizes is a great way to increase engagement and grow your Instagram following. Keep the contest simple. Communicate the rules clearly, make sure it's easy to participate in, and don't let it go on for too long as people are likely to lose interest.
People participate in contests for the prize, so pick one that's enticing and invites participation. It can be free meals, gift cards, or free drinks.
7. Feature posts from your customers
When you find a post about your restaurant made by one of your customers, ask if you can share it on your restaurant's account. This form of Instagram marketing will help you post quality content with little effort and gain credibility with your customers by reposting other customers' unfiltered experiences.
Customers want to feel like they're buying from places they know and trust. And by partnering with your customers on posts, they will feel like they are a part of the restaurant's family, and you'll be able to build more personal relationships with them.
8. Share cooking tips
Another great idea could be getting your head chef to share quick cooking tutorials, tips, and tricks with your followers. It can be something as simple as improving knife skills, marinating chicken, making a salad, or slathering on some cupcake frosting.
You can create quick one-minute videos to deliver helpful cooking tips that are sure to keep people engaged and invested.
9. Highlight your vendors
Suppose you were to spotlight all the vendors who make your restaurant the great success that it is. This would show how much you care about everyone on your team, even your partners.
Also, restaurant customers are curious to know where the ingredients in their favorite dishes come from. And, if you show that you support other businesses, you can attract new customers who are looking to feel like part of a big community.
10. Tell your restaurant's story
Your followers aren't just interested in food; they also want to know about your restaurant. How did the restaurant become a big success? What is the origin of your restaurant? Where do you aspire to go in the future?
If you tell the story of your restaurant through photos and videos, your audience will not only be engaged and interested, but they'll also want to see the story in real life. That means more business will be coming your way.
11. Join forces with influencers and food bloggers
Partnering with food influencers is a solid way to boost your restaurant's brand on Instagram.
Traditionally, this entailed brands shooting ads with a celebrity and broadcasting it across as many media channels as possible.
But today, thanks to social media, brands can reach out to industry-specific celebrities who have grown into online sensations.
There are a few Instagram strategies that you can adopt when it comes to influencer marketing, such as reviews and event coverage.
Reviews
One way is to send a gift box with your latest meals or menu items to a few of your favorite F&B influencers. Then, you can ask them to record and share their experience with your food on their creator accounts from the moment they unbox your gift.
Event Coverage
Event coverage collaborations entail F&B icons attending your event and sharing photos or live coverage of this event on their accounts. You would, of course, agree with them on a fixed number of posts in addition to any hashtags you want them to include in their captions.
12. Engage with your customers
Restaurant Instagram marketing is about much more than simply gaining followers. It's essential to create a sense of community with your customers by interacting with them online. After all, people sharing photos of your food on Instagram are recommending your restaurant to their followers, so they deserve your appreciation.
So, make sure you're constantly engaging with your followers and responding to their comments and messages. In doing so, you will make people see your brand as more than just another business, leading to stronger relationships and more loyal customers.
13. Explore IG Advertising
Paid Instagram ads can significantly improve the reach and discoverability of your content. And whether you want to sponsor an already successful post or create an entirely new campaign, Instagram offers you many options. Ads on Instagram take many forms, such as single posts, carousels, Stories, and Reels.
Although there's plenty of room to get creative, your ads' success depends on how well you plan. Ads must have a measurable goal, a clear message, a target audience, and a set duration. And the more thoroughly you plan your ad, the greater the impact it will have.
Summary
Restaurants are all about community. And why should that stop when customers walk out of your restaurant's door? Developing an Instagram presence and correctly using it as a marketing channel carries your community online. It allows you to interact with your customers anytime, anywhere.
While starting and maintaining an Instagram presence can seem like a daunting task, the bottom line is that it's about people. Instagram provides a direct line of communication with existing and potential customers.
So, what are you waiting for? Use these creative ideas as inspiration to kick-start your restaurant's Instagram profile.