Selling Online
Instagram Content Formats: Everything Your Restaurant Needs to Know
By Enas El Masry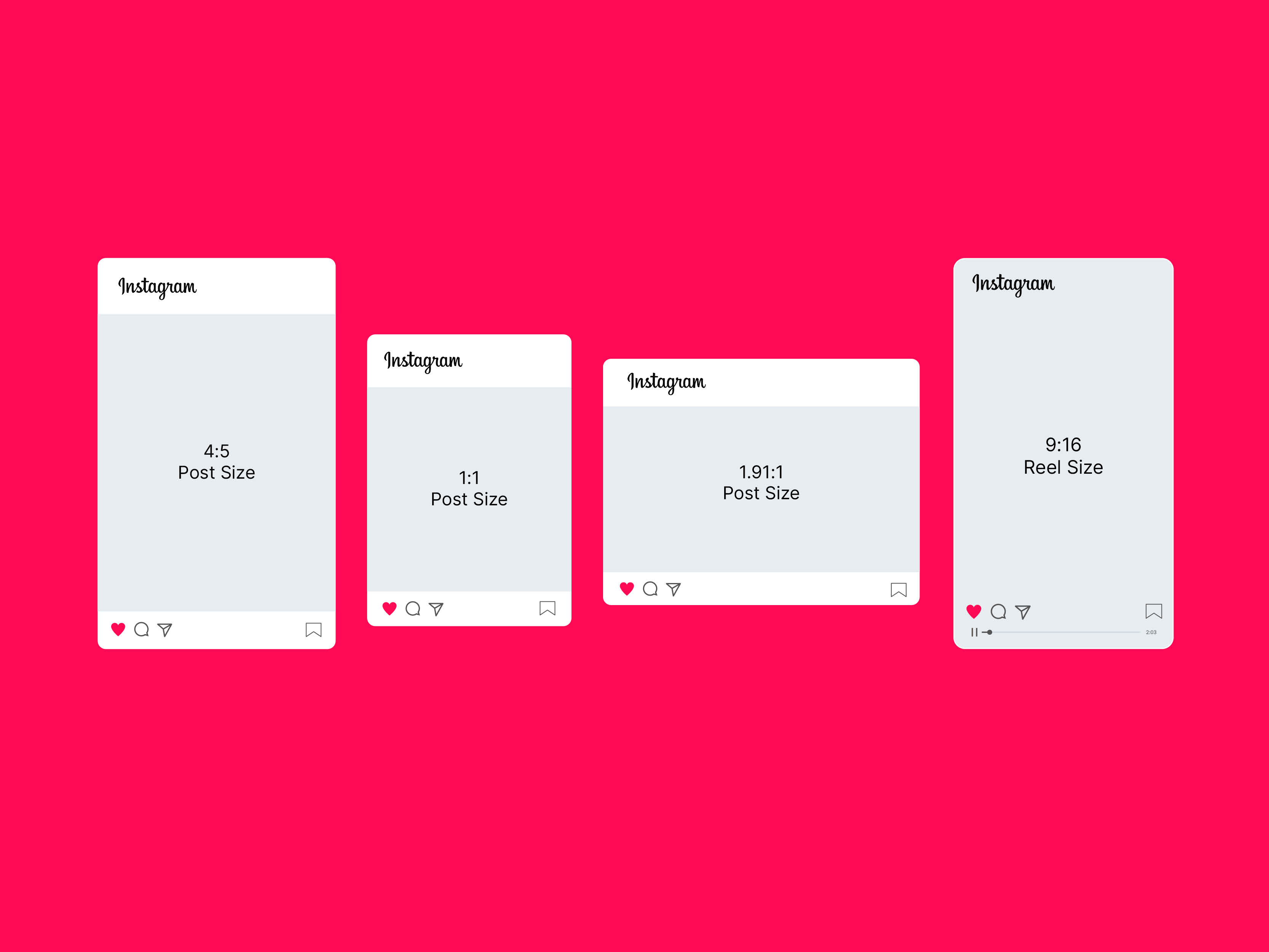 When Instagram launched in 2010, it was a photo-centric app. Since then, it has evolved to introduce many other layers of visual content that complement photos. Most of these new streams of content within the app are inspired by other popular applications like Snapchat and TikTok.
There's nothing your potential customers crave more than visual, creative content. People remember 80% of what they see, compared to 20% of what they read and 10% of what they hear. So you'd do well to take advantage of these facts to create more engaging content.
On the top of your Instagram home page, you'll find a + sign. When you press on it, you'll get a drop-down menu with four different types of content: Post, Story, Reel, and Live. Follow this how-to guide for ideas on how to apply each one.
1. Posts
Posts are considered the pillar upon which Instagram was created. This basic feature has come a long way. In its early days, Instagram limited its posting options to a single photo per post which had to be cropped into a square. It also offered a collection of filters for enhancing and accentuating photos.
Today, Instagram allows you to post photos or videos on your feed in a square, portrait, or landscape view. And you can limit the one post to a single photo or video (maximum length 1 minute) or choose up to 10 photos and videos, otherwise known as a carousel post. You can also accompany each post with a caption of up to 2200 characters.
Best uses for posts
Posts are best used for cementing your competitive edge and brand personality. If your Instagram posts are successful, potential followers should be interested in following your account and intrigued to try your food.
Best practices for posts
On an app like Instagram, your visuals must be as flawless as Adele's winged eyeliner. I'm talking sharp, clear, well-lit, and well-composed images. These high standards should apply to everything from photos to videos, illustrations, and infographics.
2. Unify the aesthetics of your account
Your Instagram aesthetic is the first thing potential customers will notice when they check out your brand's profile. And creating a cohesive Instagram aesthetic is more important than ever!
A unique and cohesive Instagram aesthetic is not just visually pleasing but can significantly improve brand recognition and business success. Unifying the aesthetics of your account will convey your brand's voice and personality. It will also help your followers instantly recognize your content when it appears on their feed.
3. Master the use of captions
With each Instagram post, you get 2200 characters to use as you please. But before you get too excited about this massive space for copy, you must first revisit your brand voice for guidance. Your choice of vocabulary, tone, and even emojis must all align with your brand voice.
By default, Instagram only shows the first two lines of your caption in your news feed and conceals the rest under "more." So, you might want to put all the essential information you wish to convey into those first two lines.
And according to Hootsuite, 138-150 characters is a perfect caption length to stick to for organic posts. This number decreases a notch to 125 characters for sponsored posts.
A hashtag is the # symbol followed by a combination of text, numbers, and/or emoji (e.g., #happy). Hashtags are clickable. And that means anyone can click on an Instagram hashtag to see a page showing all the posts tagged with that specific hashtag.
Hashtags are typically used to categorize your content and make it more discoverable. When you use a specific hashtag, you attract like-minded individuals to your account who are more likely to engage with your posts. Hashtags are an important way to expand your Instagram audience and help more followers find you.
Hashtags are only as functional as the amount of research you put into them. Does your local food scene have a particular hashtag? Are there any hashtags specific to your cuisine? Are all your competitors using one? It's important to find relevant hashtags for your business. Pick hashtags specific to your industry, the content you're posting, or what you offer as a product.
Although Instagram allows you to use up to 30 hashtags per post, that doesn't mean you should. Statistics point to 11 being the ideal number. Just make sure to use each one of them purposefully.
5. Tag your posts
Tagging can be a valuable tool for marketing on Instagram. You can tag other accounts (personal or business) and locations (AKA geotagging). Tagging is perfect for networking and being found.
You can allow other Instagram users to tag you as well. When users tag your account, the content will be kept on a separate tab in your Instagram profile, giving you this massive library of user-generated content (UGC) to use for your brand.
You should also consider tagging your location in your posts (Geotagging). When tagging your location in your content, there's a good chance your restaurant will appear in search results, and people will see your content. Adding your location tag can also help local followers find their way to your physical restaurant much more easily!
2. Stories
An Instagram Story is a feature that allows users to post photo or video content that lasts only 24 hours. Stories are represented by a circle-shaped border around the user's profile picture on Instagram. Because Stories disappear after 24 hours, they're often used much more casually than posts.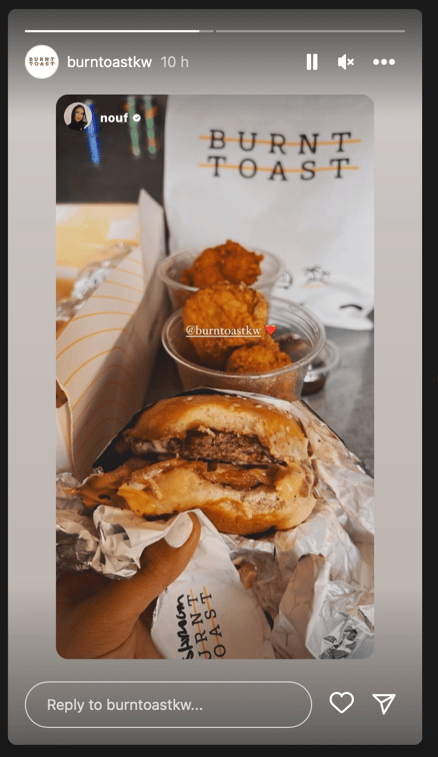 Best uses for Stories
As the name suggests, Instagram Stories are best used for storytelling. They are a relaxed space to take your followers on a sneak-peek tour of your behind-the-scenes, introduce them to your close-knit team, and share kitchen moments.
As a restaurant owner, you can use Stories to promote your events, preview your posts or videos, showcase your menu items, and announce new releases. You can also use them to engage with your audience and utilize call-to-action (CTA) buttons to redirect your followers to your online ordering platform.
Best practices for Stories
1. Communicate efficiently
Given the fleeting nature of Stories (15 seconds per story panel), you need to structure your Story content so that it can be consumed quickly and easily without jeopardizing the message. Good content shines the brightest when it's created with intention and a clear goal in mind.
2. Understand your customers' preferences
Instagram released interactive features to its Stories. Features like quizzes (which appear as multiple-answer questions), polls (with only two options to choose from), and open-ended questions (with a 75-80 characters limit for the answers box). These handy features take just a few seconds to add to your Story and even less time for your followers to answer.
For a restaurant owner like yourself, these features could be the perfect tool to learn more about customers. You can use them to connect with your customers and drive up your engagement rates. You can also use them to get pure, honest feedback—direct insights from your audience to identify issues and improve your offerings and campaigns.
3. Repost user-generated content (UGC)
Re-share the Stories of other users on Instagram if they happen to mention your restaurant. Reposting your followers' Stories of your restaurant can have several benefits. It encourages your followers to share content related to your brand, builds rapport with your followers, and showcases how customers experience your food.
4. Save highlights
Highlights are a collection of Instagram Stories your followers can tap into and watch any time they like. You can pick any Story you've previously posted from your archives and turn it into a Highlight. Each highlight is like a separate album, and you can only use no more than 15 characters to name them.
Highlights appear on your account page right beneath your bio and before your stream of posts. For restaurants, they are handy for answering FAQs, such as branches, menu items, and customer feedback. Instagram Highlights make your profile way more exciting and give your followers curated stories to watch.
3. Reels
Instagram Reels is a content format that allows you to create and share short, engaging videos that — unlike Instagram Stories — don't disappear after 24 hours. Reels can be up to 90 seconds long and include multiple video clips, filters, captions, interactive backgrounds, stickers, and more.
All the Reels you create will appear in a dedicated section of your profile. And when you post a Reel, you can choose to post it to your feed or share it on your Story. As a public account, your Reels will also be discoverable in the Explore tab for all Instagram users, even if they do not follow your account.
Best uses for Reels
You can use Instagram Reels to market your restaurants in many engaging and impactful ways. You can make fun, trendy videos introducing yourself, telling your Story, or following one of your employees on their shift. You can also record Reels to offer cooking tips & tricks, give a sneak peek of new menu items, or show customers how to place an order.
Best practices for Reels
1. Use closed captions
Closed captions are easy-to-read subtitles for your videos, making it easier for your community to digest your content. If a user is scrolling through your Reels in a quiet public place without headphones, there's a chance they may exit your video. But, if that very same Reel had subtitles — it suddenly becomes easier for your audience to stop, watch, and understand the video.
Just remember to watch and read the captions before posting your Reel to make sure Instagram has accurately transcribed your audio.
2. Stay true to your brand
Trends spread like wildfire, and while staying up to date on the latest trends is great, you must always remain true to your brand. So, before you jump in, ask yourself these questions, "Is it in line with my brand? What are my goals for taking part in this trend? Are my customers or potential customers already engaging with it?"
4. IG Live
For as long as 60 uninterrupted minutes, live broadcasts allow you to appear before your community to share your news or answer your followers' questions. Live streaming offers an open, candid, and raw form of communication where you can engage with your audience.
When you go live, your followers will get notified. And, for as long as you're streaming, your profile picture will show up in the same place where stories appear, with a sign across it that says "Live." You can host up to three other users to join your live stream.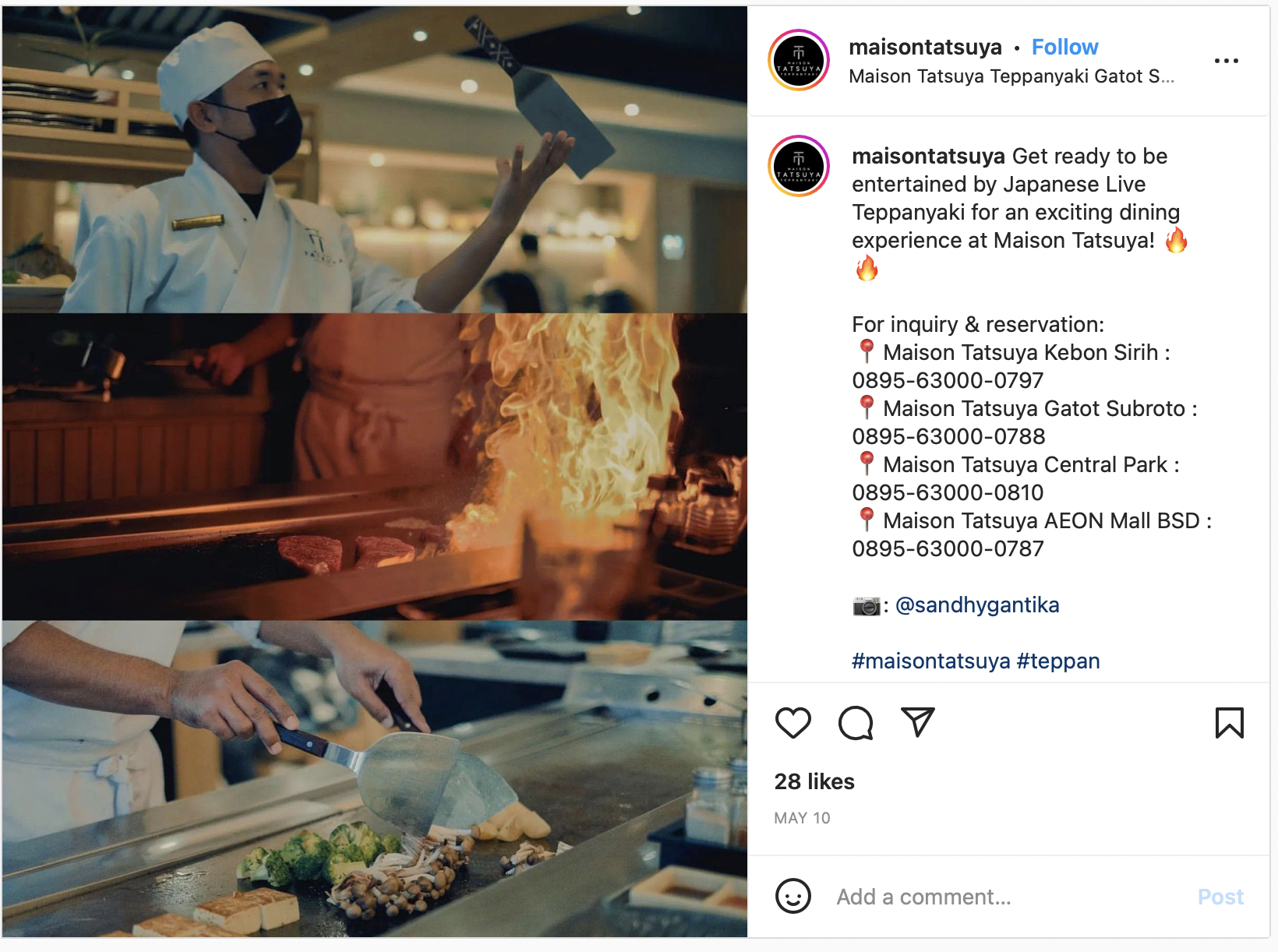 Best uses for IG Live
As a restaurateur, you can use IG LIVE to share news and events, feature your star employees, or announce a community project your staff is participating in. You can also use live streams to teach your community tricks of the trade, like how to cook delicious food and run a successful business.
Best practices for IG Live
1. Be yourself
IG's Live broadcasts are your ultimate chance to remind your community that there's more to your restaurant than delicious food. There are people with colorful lives that assemble these meals with passion and purpose. So keep it real, and let your community see you.
2. Plan and be prepared
Always have a clear agenda. And while setting this agenda, make sure to consider your followers' interests and expectations. Doing so will show how keen you are on meeting their needs and addressing their issues.
And whether you end up with two listeners or 2000, acknowledge their presence and do your best to add value to them.
3. Commit to a series
Instead of making individual videos, you could create a series of Lives revolving around a specific theme or topic. This type of live content gives your followers a reason to keep coming back to your profile. And it can help your brand become a regular part of their Instagram routine.
4. Announce your live broadcasts beforehand
Let your followers know beforehand when you'll be going live with your broadcast, what you'll be discussing, and with whom (if you have a guest or more). You can also invite your followers to share their questions in the comments. That way, they will feel more engaged and more likely to tune in.
You can also schedule an IG Live up to 90 days in advance, which is great for building hype and creating more of an "event" out of your upcoming broadcast.
Putting it all together...
Now that you've learned the variety of content options on Instagram, you need to have a well-rounded marketing strategy across all of the content options.
Restaurants on Instagram can use numerous features and tools to elevate their marketing game. Fully harnessing the power of Instagram marketing can take time and a lot of practice. Focus on your audience, experiment with your content, and the engagement will roll in.