Restaurant Marketing
10 Easy Steps to Creating Your Restaurant's Facebook Page
By Sarah Al-Waleed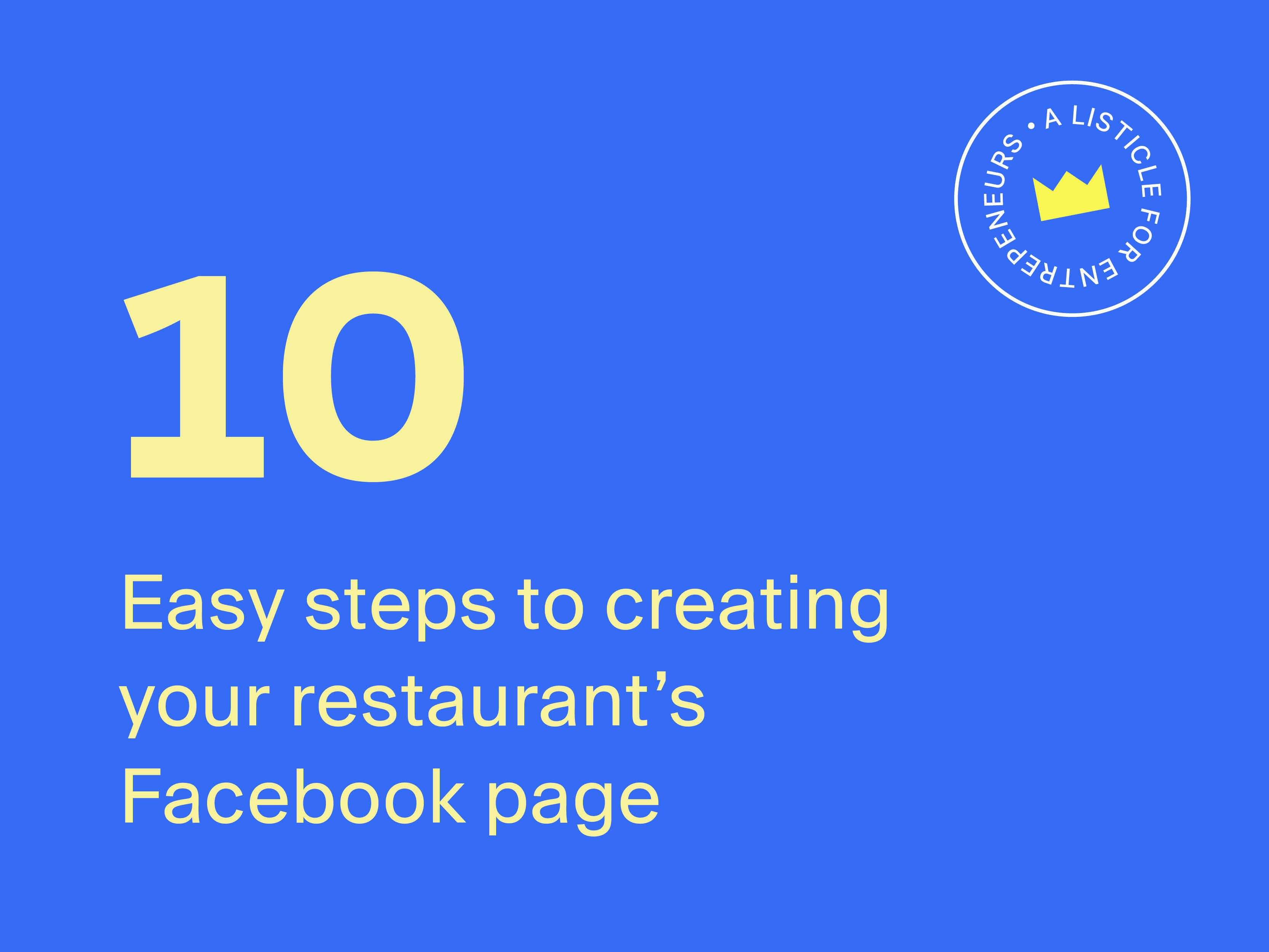 Facebook is the most popular social media platform. With nearly 3 billion monthly active users, it's definitely the uncontested leader of the social media world. As such, it has been the go-to channel for all businesses looking to expand their reach and raise brand awareness.
As of today, there are more than 200 million businesses around the world using Facebook's tools. And why wouldn't they? Facebook allows businesses to spread the word about their products, build an audience, and engage with potential and existing customers.
Undoubtedly, Facebook marketing is a powerful tool for any business looking to grow organically. Therefore, we've decided to shed some light on its importance and give you this little guide to building an influential Facebook presence.
What is Facebook marketing?
Facebook marketing is the practice of promoting your business and brand on Facebook using its multiple tools. It can assist in increasing brand awareness, growing an online following, generating leads, and selling more products.
Why use Facebook marketing for your restaurant?
1. Reach a vast pool of potential customers
Facebook has a massive base of 2 billion daily active users; that is more than any social media platform out there. It attracts users of all generations since 52.2% of its users fall between 18 and 34 years old and 41.8% between 35 all the way to 65+.
This substantial following spans many demographics, which means that whomever your desired audience may be, you should have no trouble finding them on Facebook.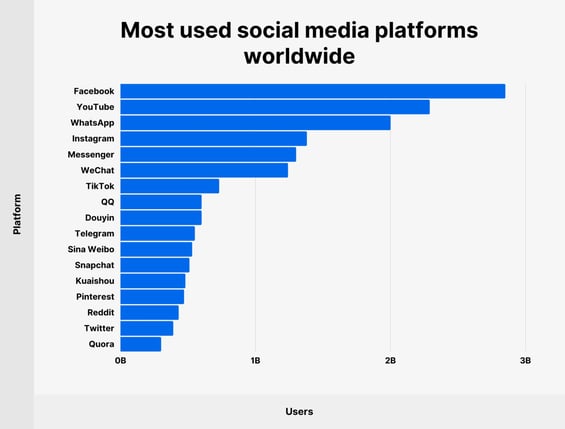 2. Promote your restaurant at a low cost
Starting a Facebook page for your restaurant comes at zero cost. This means that you can create a solid presence for your restaurant, meet your audience where they are, and promote your business without worrying about a huge bill coming your way.
And even if you decide to go the advertising route, Meta Business Manager (formerly Facebook Business Manager) promises to deliver the best bang for your buck.
This is because it allows you to run ads, targeting specific segments and demographics of your audience at a fraction of what other ad platforms like Google would cost.
3. Gain in-depth insights into your audience
When you set up your Facebook page, you'll have access to audience insights and demographics. You can use this data to gain a deeper understanding of your target audience and develop a robust marketing strategy to grab their attention.
And don't worry, you don't have to be a full-fledged techie to make heads or tails of these insights Facebook provides about your business. It's usually presented in a way that's simple enough for anyone to comprehend and use to better direct their promotional efforts.
4. Build brand loyalty
Your Facebook page can do more than just sell your delicious food; It could be a place where you can humanize your brand and build a loyal following.
Through Facebook, you can consistently provide your audience with valuable, entertaining content that will keep them active and responsive. And the more you interact with your followers, the more likely they'll see you as an ever-present, trustworthy brand.
This is why a Facebook presence is a necessity for any restaurant looking to retain the interest of its current customers and draw in new prospects.
5. Drive traffic to your website
Facebook knows that the goal of any revenue-minded business owner is to convert their loyal following into customers. That's why it provides restaurant owners with several options they can use to drive traffic from their Facebook pages directly to their websites.
For example, you can add the link of your restaurant's website to your page's "About" section or implement a dynamic call-to-action (CTA) button. You can also run ads to direct targeted demographics of potential customers straight to your restaurant's website.
And for Zyda's customers, this is as simple as getting followers to click the Order Food button.
6. Keep tabs on the competition
Facebook is built on fostering a sense of community among individuals. As such, it gives you constant access to view your competitors.
Through Facebook's "Pages to watch" feature, you can add a list of pages similar to your business and compare their performance to yours.
Now, don't get too excited. This doesn't mean you'll be looking over their shoulder or seeing how their sales are doing, for example. Still, it's a great tool to find out how others in your industry utilize their Facebook presence and to pinpoint your competitive edge.
7. Create visual content
Visual content is proven to merit a significantly higher engagement rate than text-only content. And Facebook is a wonderful channel for churning out stunning graphic posts to capture your audience's attention and promote your products.
With Facebook's multiple content creation formats (Posts, Reels, Stories, and Live) and easy-to-use tools, it's almost impossible not to create high-quality, engaging visual content.
How to set up a Facebook Page for your restaurant?
Before you can sign up for your Facebook page, you need to log into your personal Facebook account. Don't worry; the information from your personal account will not be visible on your business page. Your personal account will just serve as a key to let you into your new business page.
Now that you're logged into your Facebook account, let's dive right into the steps to building a foolproof Facebook page for your restaurant.
1. Create your page
On the Home page of your Facebook account, you'll find a "Menu" tab on the left. Click on the "Menu" tab, then select "Create Page."
2. Enter your restaurant's information
Next, you'll need to type in your restaurant's information, which will include your restaurant's name, category, and description.
A. Name
This is where you would put in your restaurant's name exactly how you spell it to make it easy for potential followers to find you on Facebook.
B. Category
For category, you may type up to three words to describe your restaurant. For example, it could be Fast Food restaurant, Seafood restaurant, or Pizza place. Facebook will also provide you with a few suggestions.
C. Description
Facebook gives you a maximum of 255 characters to write a short description of your restaurant. This description would ideally include information about your restaurant and what it has to offer.
Even though this might seem like a tall order for such a small amount of text, you can see it as an opportunity to get those creative juices flowing.
You can mention your restaurant's slogan or, perhaps, a couple of short sentences about the quality of your food or signature dish.
Once you're done, click "Create Page." And voila, you've now jumped on the bandwagon of restaurants on Facebook.
3. Fill out the "About" section
At this point, you'll be asked to provide a few key details about your restaurant, such as your restaurant's website, phone number, business email, location, and operating hours.
Facebook uses these details to fill in your page's "About" section and provide your followers and potential customers with all the information they need to connect with your business.
The "About" section can also be a great place to share your story, tell people what kind of eatery you are, and provide links to your other social media accounts in addition to your restaurant's website.
4. Add images
Once you've filled out all your restaurant's information for the page to display, you can move on to choosing your page's images.
The most important image to consider is your page's profile picture, as it will be the first thing people see when searching for your business on Facebook. One of the best options to go for here, is to set your restaurant's logo as your profile picture.
The second most important image to include on your Facebook page is the cover photo. Cover images are the large images that sit at the top of your page.
Given the cover photo's large dimensions, you'll have many options to work with. You can opt for a mouth-watering photo of a popular menu item or an image of your establishment. You can also go with an image of your restaurant's interiors to get followers to want to see it in real life.
5. Create your username (AKA Vanity URL)
Your username is how you get followers to find your restaurant's page on Facebook. And to create one, you need to click "Create Username" under your cover photo in your page preview.
Usernames can be up to 50 characters long. Now, does this mean you should use all of them? The answer is no. You want it to be simple enough for your followers to type so they can quickly find you. So the safest bet would probably be your restaurant's name.
And if your restaurant's name is unavailable as is, you can try slight variations of it. For example, You can add your country code (EG, KW, KSA… etc.) or phrases like "the real," "official," or "original."
6. Add a call-to-action button
Restaurant owners know that one of the most important things to do to grow your business is to get new customers in the door. And Facebook's call-to-action (CTA) buttons can help you do just that.
CTA buttons encourage your page visitors to take a specific action that's important to your business, such as making a reservation or ordering takeout. And Facebook offers 10+ different CTA options so that you can find the right one for your restaurant.
For example, if you're looking to increase the number of table reservations, you could use the "Call Now" button. And if you want people to order takeout from your restaurant, you could use the "Start Order" button.
No matter what action you want people to take, there's a CTA button for it. So make sure to take advantage of them and add a CTA button to your Facebook page.
7. Upload your menu
When setting up your restaurant's Facebook page, one of the first things you'll want to do is upload your restaurant's menu. Making sure your menu is easily accessible is a great way of promoting your business and letting potential customers know what kind of food you offer.
There are several ways of uploading your menu on your Facebook page. For example, you can add it as an image, a PDF file, or a link to your "About section." You can also create an entirely new section for it on your page by going to your "Professional Dashboard" and clicking on "Add Menu Tab."
Whichever option you decide on, remember that an enticing menu image is crucial to luring in potential customers. So make sure your menu's images are of excellent quality and that they accurately represents your dishes.
8. Assign page roles
Assigning page roles is a valuable tool for delegating responsibility for your Facebook page. In doing so, you can ensure that your page is being managed at all times, even when you cannot do it yourself.
Before you can assign page roles, you first need to understand the different types of roles that are available. Facebook currently offers six different page roles: Admin, Editor, Moderator, Analyst, Advertiser, and Community Manager. And each role has its specific set of capabilities.
For example, you can give someone the role of Editor, allowing them to create and edit posts but not manage page roles and settings. Or you can give someone the role of Moderator, allowing them to respond to comments and messages but not create or edit posts.
As the page owner, you can assign any of these roles to other people. And to do so, simply go to your page settings and click on the "Page Roles" tab. From there, you can add or remove people as you see fit.
9. Start building an audience
Facebook's "Invite Friends" feature can come in handy in helping you build an audience from scratch. It allows you to directly invite all of your Facebook friends to "Like" and "Follow" your new page.
It's an excellent way to jumpstart your page's following and quickly form a community of loyal customers.
Another way of attracting an audience is promoting your page through ads. It offers you the chance to target potential customers by their location, age, interests, and more. Running ads on Facebook is not free, but it can be done on any budget you decide to set aside for it.
10. Post quality content
Once you have a solid base of followers, you can start posting engaging content that will encourage them to interact with your page. This can include high-quality photos of your tasty dishes, updates on special events or promotions, or even fun quizzes and competitions.
Just remember to reply promptly to any comment or questions you receive from your followers. Doing this sends the message that you are interested in hearing from your audience and that you value their feedback.
Conclusion
As a restaurant owner, you are always looking for new ways to reach potential customers and grow your business. As you can see by now, Facebook marketing is an effective way of doing this.
With over 2 billion daily active users, it's clear that your customers are already on the platform. This means that If you're not using Facebook to reach your customers and expand your business, you're already missing out.
Creating a Facebook page for your restaurant can help build long-lasting relationships with your customers. And what restaurant owner wouldn't want that? So, what are you waiting for? Use this helpful guide to set up your restaurant's Facebook page and see the benefits for yourself.