Entrepreneurship
17 Unique Food Truck Concepts to Inspire Your Next Design
By Ibrahim Zaghw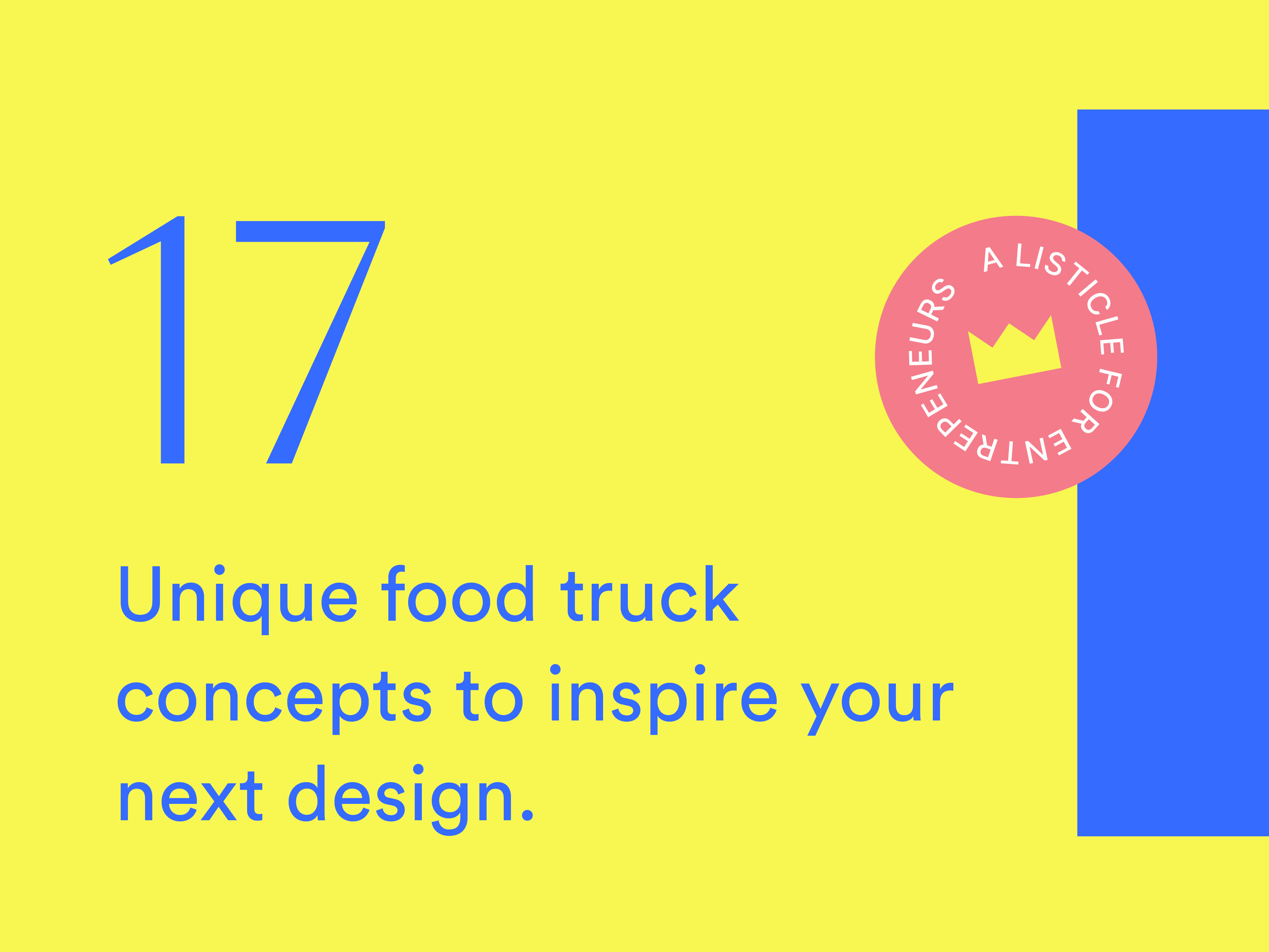 Even though the concept of a food truck is relatively new to the Middle East, it has become a popular choice for restaurants to connect directly with their customers and to meet them wherever they are.

Take a quick look at the history of food trucks.
Moreover, seeing as food trucks make a lot of economic sense, more and more of them are going to hit our streets over the next few years.
So if you want to operate in a market that's going to get crowded soon, you need to find a unique food truck concept that'll attract your customers and keep them engaged with your brand.
How to choose a food truck concept?
Before settling on an idea for your food truck, you need to lay the groundwork first:
A. Research your target market
Whether you are starting a brand from scratch or buying a franchise from another big brand, you need to do your homework, and that starts by researching your target market. You need to figure out the type of food you will sell, where you will sell it, and who you are competing against.
B. Build on the brand
Your brand is much more than the name of your business or the food you serve. It is the colors that people associate you with and the emotions people feel when they think about you. Are you a hip-young brand? Or are you more refined? Do you have a rustic feel, or would people describe you as modern?
C. Let your concept flow
While you want a food truck concept that's creative and attractive, you also want one that represents your brand. In other words, if I were to look at your food truck and then at your menu, I should feel that they both belong to the same restaurant.
That said, you also want to aim for an idea that differentiates you from the competition.
All of this might seem hard to juggle in a single concept, but we want to help you achieve the impossible. So, here are 17 unique food truck ideas to get your creative juices flowing.
17 interesting food truck concepts
Even though this truck might have started out as a simple white plain vehicle, its owners soon realized that it could be so much more.
They invited anyone who ate at their truck to use graffiti to add a little flair to the white vehicle. That way, every visitor felt like they were part of Giovanni's journey.
And, wherever the truck went, it carried the history of everyone who enjoyed its delicious shrimp with it.

There are a couple of reasons we love this truck:
It shows that you don't need to always sell something fancy or trendy. Trucks can also be used to sell something as simple as fruit.
The FoodShare Truck is all about bringing low-income families in Canada fresh fruits and vegetables. The truck strives to make fresh food both affordable and available.
3. Sweet Jenni's Bakeshop

As the name might imply, Sweet Jenni sells baked goods.
However, Jenni went the extra kilometer and turned her entire truck into a delicious-looking confection. And, while I might feel a bit hungry looking at her truck, I am not so sure whether I would try to take a bite out of it anytime soon.
4. Austin Ice Cream Festival

Fine. Maybe turning an entire food truck into a pastry was a tad too much for you. Then, how about we go simpler?
We have all had that horrible experience: We just bought an ice cream cone and are enjoying the heavenly taste when, all of a sudden, the ice cream cone falls, splat, on the floor. Our hearts sink a little, and a small part of the child inside all of us cries.
However, what if you dropped your ice cream onto your food truck, and what if the cone were as large as a human being?
Well, the Austin Ice Cream Festival truck has been generous enough to answer that hypothetical for us.
5. Grillenium Falcon

The pun alone made us laugh. And, to be fair, I am sort of a Star Wars fan. So, the instant I saw the Millenium Falcon, sorry, the Grillenium Falcon, I just had to include it in this list, as cheesy as it might have been (pun intended).
Since we are on the topic of references, we might as well keep on going.
Before becoming a food truck, Bananarchy first started out as a food stand, a banana stand to be more precise.
I guess the owners felt that there is always money in the banana stand, and they were right.
Anyway, their business grew, and seeing as they didn't want to arrest their development, they decided to expand Bananarchy and get a truck.
In the above picture, you will see a fire truck that has been repurposed into a food truck that serves mouth-watering pizza. I also want to point out that this used to be an actual fire truck; it's not a gimmick.
Best of all, Company 77 bakes artisanal pizzas that will have people talking about their experience for days.
Whether it's the internal lighting or the modern look, the interior design of this truck is fantastic. Even the truck from the outside has a smooth, metallic look that gives it a slick feel.

Moreish earned its way here for something seemingly simple but, in reality, very difficult: They don't have a set menu. Instead, their menu changes depending on the whims of their customers.
Yet, despite the almost impossible logistical feat of having an amorphous menu, the quality of their food never wavers.
You have to tip your hats off to them.
10. Gyro Twins
The Gyro Twins truck is a perfect example of when concept is perfectly combined with design.
The owners, Harry and George Pappas, are Greek twins who sell authentic Greek food. And the design of the truck is based on actual homes in Greece. In fact, if you type "Homes in Mykonos" into Google's search bar, the images that will pop up look pretty similar to the truck's design.
11. Pizza Piaggio
This pizza tuk-tuk is proof of one thing: To feed people delicious food, you don't need to invest in a large truck with breathtaking branding. With enough passion, you can turn even the simplest setup into an elegant establishment.
After all, Pizza Piaggio here sells Neapolitan pizza out of a tuk-tuk. What's your excuse?
12. Baguette Sandwiches Eats and Bakery in Cape Town
If our example of a tuk-tuk was too rich for your blood, then you might enjoy a simple bicycle selling baguette sandwiches. And you shouldn't scoff at this idea: When Steph and Luciana Venter tried this out back in 2011, it shot to stardom faster than you could say, "hold the mayonnaise." In fact, business on the 2-wheeled vehicle was booming to such a degree that the owners decided to start a brick-and-mortar bakery.
So, why should you consider selling off of a bicycle?
This can be the perfect solution for countless reasons. Maybe, you want to sell a new type of cuisine, such as Vietnamese, and rather than investing fully in a truck, you want to dip your toe first in the market and see whether there is any demand.
On the other hand, you might still be at the beginning of your business adventure, and you don't have the cash to invest in anything larger than a bicycle just yet.
Even though Truckila is one of the biggest food trucks you will find in Mumbai, we love it for another reason other than its size: its gorgeous outdoor lighting.
You see, while many of your customers will make an order, pick it up, and head on their merry way to enjoy their food back home, a large majority would rather devour your food right outside of your truck as it is still fresh and hot.
So, you have to ask yourself, what does your outdoor seating area look like? Have you created an inviting atmosphere that will make people glad to stick around?
We can tell you that Truckila sure took care of that.

Here, you have the perfect example of an entrepreneur doing whatever it takes to meet his customers wherever they may be, regardless of the obstacles that might be in his way.
Roving Mammoth operates in the unforgiving climate that comes with mountains covered in snow. So, to glide over the mountain with ease, the owner decided to combine a food truck with a snowmobile. That way, he could sell his scrumptious burritos to skiers who really had no other option.
15. Dos Chinos

Dos Chinos makes its way onto our list thanks to its splendid artwork. Enough said.
16. Maximus Minimus
Yes, yes, yes, we know. No one likes the image of a pig in the Middle East, especially when it comes to food.
But, given the amount of effort and work that went into making this truck, we just had to give them a shout-out. Not only was the design creative and risky, but the execution must have also been challenging.
And, when the car is parked, they put visors on the windshields.
We just saw the example of someone selling Neopolitan pizza out of a simple tuk-tuk. So to keep everything balanced, it only stands to reason that we also talk about the people selling pizza out of a beast that measures 9*3.6 m.
The three owners of Happy as Larry decided to take a shipping container, recycle it, install neon lights, put in an astounding sound system, and cut out windows so everyone could see what was going on inside.
I guess they knew that there was something magical about watching an artist at work, whether they were painting a portrait or baking a Napoli pizza.
So, what next…
Having seen all of these different and vibrant ideas, you might feel a bit excited, itching to start your own food truck business. If that is the case, then what are you waiting for? Use these unique concepts to inspire your next food truck's design.