Best 12 Restaurant Delivery Services in The MENA region
By Sarah Al-Waleed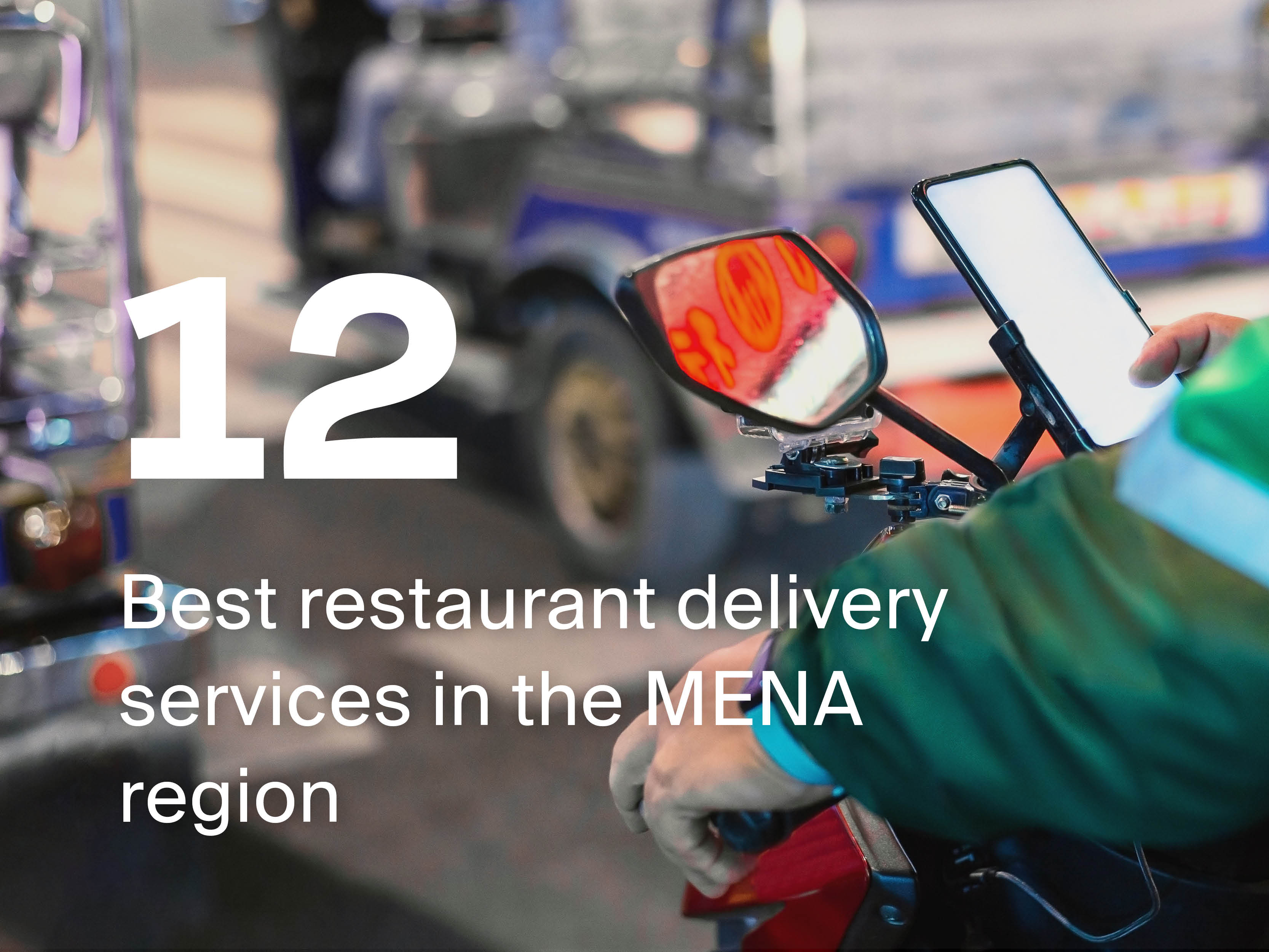 COVID-19 challenged restaurants. Having closed countless dining halls, the global pandemic forced restaurants to rely on delivery and takeout.
As a result, restaurant owners struggled to fulfill their customers' orders using their own couriers. And, as demand for delivery services increased more than ever, restaurants started relying more on third-party delivery companies.
Third-party delivery companies offer their customers speedy deliveries, order tracking, and many innovative integrations guaranteed to enhance their customers' overall delivery experience.
What can a restaurant delivery service do for your business?
Today, even though the global pandemic is receding into the background, the food and beverage industry in the MENA region still needs third-party delivery companies.
As a case in point, according to the Dubai Chamber of Commerce and Industry, online F&B sales saw 255% growth in the UAE in 2020, to hit $412M with an 8.5% CAGR, to reach $619M by 2025. In other words, restaurants should sell around $619 million worth of food over the internet by 2025, most of which will have to be delivered by a courier.
So, how can your restaurant benefit from a third-party delivery service?
A. Boost your restaurant's profit margins
Delivery services can increase your profit margins as they offer great convenience, resources, and expertise your restaurant might not have. Because of that, they enable you to scale up your business efficiently.
B. Gain new customers
When you add your restaurant's information and menu to a food delivery service's website, you'll be able to attract new customers. Through digital platforms, you can reach potential customers who may not be able to visit your restaurant regularly.
This is not to mention that a delivery service might be able to give you access to a wider radius of delivery locations.
C. Minimize costs
One of the most alluring aspects of a third-party delivery service is its affordability.
An in-house delivery service requires training a delivery team, covering the cost of gas, and maintaining vehicles. That's a lot of associated costs.
On the other hand, third-party delivery partners are ready. They bring their drivers, networks, route management, communications, payroll, and labor management. Restaurant owners need only subscribe to the delivery service of their choice, and the company will take care of the rest.
Third-party delivery companies in the MENA region
To help you on your quest to find a food delivery service that best fulfills your business needs, we've prepared a comprehensive list of the top platforms currently operating in the MENA region. These are:
1. Bosta
2. Halan
3. Yallow
4. Armada
5. Mashkor
6. Ngwah
7. Road Runner
8. Shgardi
10. Shipa
11. SURVV
12. WSSEL
Let's get to know these platforms better

Overview
Have you ever used Bosta as an Egyptian restaurant? No? That's surprising, considering over 3,000 restaurants have already signed up for Bosta.
Bosta prides itself on being a leading logistic-tech company in Egypt, helping businesses with logistics and last-mile delivery.
Since being founded in 2017, they have partnered with more than 5,000 businesses and shipped more than 10 million items within the country. Recently, they received Series B funding of an undisclosed amount that will see them expand their operations to other countries in the MENA Region.
Countries of operation
They mainly operate in Egypt. They also plan to commence operations in Saudi Arabia and the UAE by the end of 2022.
Products offered
Solutions
They offer on-demand logistics for all businesses regardless of the scale. Some delivery types include delivery, exchange, return, or cash collection. There's also the one-time password that serves as proof of delivery and helps ensure your products get to the intended customers. You can get an overview of your business performance by receiving business analytics.
Dashboard
With Bosta, you can access all the information about your orders and financial aspects in one place. Their dashboard features include multiple order creation, easy requesting, order tracking, ticketing support, language support, order tracking, wallet management, and insightful reporting.
Mobile app
Bosta's mobile app lets you manage your deliveries with a few taps. You'll only require a mobile number or a social media account to sign up. The app keeps you up-to-date with live tracking and sends notifications regarding the delivery status.
Pricing
Bosta's customized pricing model varies depending on your order type, package size, and location.
Integrations offered
Bosta plugins integrate with Shopify and WooCommerce, enabling you to automate your delivery operations with minimal effort. You can also incorporate their custom APIs into your website using their e-commerce plugins.
Existing Clients
Their trusted partners include Amazon, Jumia, Carrefour, Taager.com, Palma, EMMA, and Noon.

Overview
In 2017, Halan was founded as a delivery and ride-hailing app. It provided on-demand two- and three-wheeler vehicles to individuals and businesses. Since then, the Cairo-based startup has also ventured into fintech, focusing on digital payments, business & consumer lending, and providing on-demand logistic solutions to large organizations, small businesses, and restaurants.
Once you register your restaurant through the Halan app, you can enjoy various delivery services to support your operations. Today, Halan has 1.9 million customers and boasts a 1.1 billion EGP monthly value of requests. Their iOS and Android apps have surpassed 4 million installs.
Countries of operation
Egypt and Sudan. It also plans to expand its operations to Ethiopia.
Products offered
Mobile app
Halan's services are only available through iOS and Android apps. Through the app, merchants can deliver products to their clients, access affordable transportation, pay their bills, utilities, and services, and even apply for business loans.
Pricing
Halan doesn't offer fixed prices. Cost is commission based and is determined by the number of orders made and the delivery distance. Yet, they promise the most affordable, safe, and convenient delivery.
Integrations offered
Halan has APIs that integrate with your POS, ensuring smooth automation from their system to yours.
Existing clients
Mcdonald's, KFC, and Pizza Hut, among others.

Overview
Yallow provides a dynamic delivery management solution to help businesses manage and optimize their on-demand delivery. Yallow was established in 2019 and is active in the MENA region.
Customers can rate their experience through the Yallow app and monitor all their orders. This is not to mention that it enables them to see where their orders are headed on a map updated to the minute by the Live Map View feature.
The Yallow Operator app has many features that let drivers work comfortably. It allows them to receive & organize their assigned tasks, manage their billings, and permit other parties to track their location and progress.
Countries of operation
Jordan, The United Arab Emirates, and Saudi Arabia.
Products offered
Yallow Operator app
Yallow's iOS and Android apps offer a variety of services. Its friendly UI allows for the dispatching, tracking, and management of all orders. You get control of all your fleets from one location, including drivers from other platforms such as Uber Eats or Deliveroo. The Live Map View features real-time monitoring of all deliveries across multiple cities/countries.
Dashboard
With Yallow LINE, customers can manually or automatically add orders to the system and receive confirmation from the driver. Customers can track their orders live, and merchants can monitor their sales and order status.
Pricing
The pricing model is determined by the business scale, area of operations, and size of packages.
Integrations offered
Yallow has several APIs that integrate with your POS. Yallow Account Managers can help you set up your credentials if it's your first time using an API.

Overview
Armada is an online application connecting drivers with networks of merchants. Through their technology, you can track deliveries, hire drivers on-demand, set up delivery networks as you see fit, and manage your entire operation at the click of a button. You can also request drivers on-demand and pay as you go via the Armada wallet.
Countries of operation
Armada's trained fleet of drivers operates across three countries: Kuwait, Bahrain, and Saudi Arabia.
Products offered
Armada app
Armada's proprietary applications are available both on the iOS and Android platforms. The app makes communications with drivers effortless in that you can instantaneously send requests and delivery orders to riders. It can also make your drivers' lives easier by offering them better road suggestions to streamline delivery and cash management for deliveries.
Dashboard
Instead of using the app, you can manage delivery operations directly through their web-based dashboard. Restaurant owners can register all restaurant details and manage orders and delivery status from the admin panel.
Pricing
Armada's prices start at 1.5 Kuwaiti Dinars per day, but they offer various pricing packages based on your daily delivery volumes. Once you sign up, they'll send over a custom quote so that you can see what services are available to you and how much they cost.
Integrations offered
Through Armada's two-way API, orders are integrated directly into your POS. In addition to syncing and managing your store's menus directly from your POS, you get a complete overview of all your orders on one device.

Overview
Mashkor is an online goods delivery application designed to deliver goods from stores to homes on demand. The company's application allows restaurant owners to list their menus on the app or dashboard, enabling users to place orders and receive goods right to their houses.
Mashkor is a revolutionary app in Kuwait, transforming the way local shopping and shipping happens in the region.
Founded by Fahad Al Refai and Fahad Al Roomi in 2018, it is a joint venture between Mashkor Group (a family business) and Baskup (a startup incubator). Mashkor has recently raised a $1 million seed investment from Baskup Ventures, which will be channeled toward scaling up operations across Kuwait and other MENA countries.
Countries of operation
Kuwait.
Products offered
Dashboard
Mashkor has a user-friendly web interface that allows online merchants to manage their orders and follow up on the delivery status of dispatched packages.
Mobile apps
On-demand delivery is available for iOS and Android devices. Customers get to order from registered restaurants in the app and have their orders delivered where they need them.
Pricing
Mashkor's pricing model is commission-based, calculated on each delivery.
Integrations offered
Recently, Mashkor released an API integration that allows merchants to offload the entire delivery process. They can push all their orders to Mashkor in just a few seconds.
Existing clients
Mashkor currently serves more than 100 clients, such as Ali Abdullawahab Almutawaa and Jysk, and that number is rapidly rising.

Overview
Since its establishment in 2016, the Riyadh-based startup has scaled its operations and is considered among the most advanced food delivery companies in Saudi Arabia. Ngwah offers on-demand delivery for partnered restaurants in Riyadh.
The Ngwah app has many powerful features. This includes fast delivery from hundreds of restaurants in Riyadh, smart restaurants, and menu listing based on customer behavior. This is not to mention that there are no minimum order charges, and all processes are done automatically to guarantee fast delivery.
Countries of operation
Saudi Arabia.
Products offered
Mobile app
With Ngwah's app, you'll be able to access your operational data whenever you want, all from one place. You can:
A. Download and manage a year's worth of invoices.
B. Learn which dishes customers love most.
C. Track live orders as they happen.
Pricing
Restaurants working with Ngwah pay a commission fee on each order. The commission percentage is determined by the number of locations, distance, and contract type, among other things.
Integrations offered
You can integrate Ngwah with your POS to automatically send orders out for delivery through their POS API. This way, you'll never have to worry about your orders reaching your customers on time, and you'll always be able to see your orders all in one place.

Overview
RoadRunner Egypt was founded in 2019 by Khaled Taha and Ahmed Radi, who previously worked with Delivery Hero brands in Egypt. The company offers quick on-demand delivery solutions to restaurants and other businesses in Cairo, Tanta, and Mansoura.
RoadRunner partners with restaurants and other businesses that are in the market for affordable, top-notch delivery management solutions
The Cairo-headquartered startup works with restaurants using its own network of salaried drivers and charges restaurants a fixed fee for every delivered order.
Countries of operation
Egypt.
Products offered
Mobile app
The roadrunner app helps simplify delivery logistics. It allows business owners to manage delivery logistics on the go, freeing them to focus on other aspects of running their business.
Pricing
Whether you're looking to create just one project or multiple projects, Roadrunner Egypt has a plan that best matches your needs. They have a monthly payment plan, pay-per-order plan, pay-per-hour plan, and a mixed plan. Their plans are flexible enough to allow you to work at your own pace and in the amount of time that works best for your business needs.
Integrations offered
Roadrunner offers POS integrations.
Overview
Shgardi is an on-demand food delivery app that allows users in different cities across the Kingdom of Saudi Arabia to order from their favorite restaurants and have their orders delivered right to their doorstep.
Despite being a new service, Shgardi has ranked among the top 10 restaurant delivery companies in Saudi Arabia. It helps restaurant owners increase revenue since its platform allows you to open new sales channels to get more orders. You can register your business through their app to be a Shgardi partner.
Countries of operation
Saudi Arabia.
Products offered
Mobile app
Shgardi app is available on three different platforms: Android, iOS, and Huawei. The sign-up process involves the following:
1. Submitting your store's information
2. Indicating who manages delivery operations in your store.
3. Finishing registration by the main store.
4. Start receiving orders.
Dashboard
Once you sign up through their website, you can track all your store's activities through the admin panel. You'll have access to all the information on your orders, delivery status, and financial aspects in one place.
Pricing
The prices are determined based on the number of orders made, the scale of the store, and the areas of operation it covers.
Integrations offered
Shgardi's API integrations support most social media platforms, payment processors, and Google.
Existing clients
At the moment, Shgardi claims to have more than 5,000 partners, including Roma Way, Curve Burger, The Hut, Baskin Robbins, Elak, Canton, and Donut Time.
Overview
AlShrouq Express is a company that offers transportation services in Saudi Arabia, Egypt, and the United Arab Emirates. It was founded in 2015 by Mr. Khalid Mohammed Al-Qahtani, who has worked in the transport industry for over 20 years. You can access their services via their mobile app or web-based platform.
Like Halan, Alshrouq Express offers restaurants on-demand transportation solutions and last-mile delivery services to all cities in the Saudi Kingdom. Since 2015, they've helped online food marketplaces and fast-food vendors deliver their orders through their vast network of drivers and vehicles.
Countries of operation
Saudi Arabia, Egypt, the United Arab Emirates, Qatar, Jordan, and Bahrain.
Pricing
Delivery prices vary depending on distance and type of delivery (e.g., same day or next day delivery)
Integrations offered
Their API allows integration with your POS, Paypal, Amazon, and more.
Existing clients
Olo, Wassel, Jahiz, and others.
Overview
Shipa is a digital logistics platform that helps businesses, entrepreneurs, and consumers move goods across borders or towns through Shipa Freight and Shipa Ecommerce with a few clicks. Shipa Ecommerce manages on-demand e-commerce fulfillment, delivery, and returns across the Arabian Gulf.
They provide same-day, next-day, and on-demand delivery in Kuwait, Saudi Arabia, and the UAE. Shipa is powered by Agility, one of MENA's largest logistics providers.
Countries of operation
Kuwait, Saudi Arabia, UAE, Bahrain, and Oman.
Products offered
API integration
Through Shipa's REST APIs, you can connect your business systems directly to Shipa's solutions for seamless e-commerce integration. Enjoy fast, real-time access to a full stack of shipping, fulfillment, and last-mile delivery technology and services.
Dashboard
With Shipa, you can access everything you need to manage your online store from a single dashboard. This software platform works seamlessly with your website or mobile app. It also enables you to connect with carriers, manage your inventory, dispatch orders, and track deliveries in real-time.
Mobile apps
Restaurant owners don't have to be tied to their desks to manage and track orders. Shipa's mobile apps let you stay in touch with your customers and your fulfillment, logistics, and courier teams. The apps are free to download on Apple Store and Google Play.
Pricing
Shipa's prices are very affordable due to its vast network of drivers. All you need to do is fill out a form, and they'll get back to you with a detailed price quotation.
Integrations offered
Their dynamic API (REST) allows for integrations with POS, Paypal, Visa, Mastercard, social media accounts, and Google.
Existing clients
UPS, USPS, OnTrac Courier Services Inc., and Kmart Corporation.
Overview
Founded in 2018, SURVV is a premium on-demand delivery service. It utilizes advanced technologies to offer its customers outstanding delivery solutions.
SURVV has partnered with over 1,000 restaurants that enjoy their vast fleet of drivers, state-of-the-art technologies, and overall seamless delivery experience. SURVV's massive selection of restaurants is also why it has been the go-to app for food lovers who love take-out dishes.
Countries of operation
Egypt.
Products offered
Mobile app
Currently, users can only access SURVV's services through their mobile application. You and your customer can track in-progress deliveries in real-time and manage your orders and finances through the app.
Pricing
Price quotations are given on demand. You just need to fill out a form, and they'll get back to you in no time.
Integrations offered
SURVV offers point-of-sale systems, PayPal, MasterCard, Visa processing, and social media integrations.
Existing clients
Their client list includes restaurants, pharmacies, bookstores, bakeries, and more.
12. Wssel
Overview
Many food delivery service companies are available in the Saudi market, and Wssel is an impressive name among them. Wssel prides itself on always striving to deliver great value to its customers and to enhance its overall delivery experience.
Wssel offers restaurateurs a unique platform to send orders to their customers. It also allows the customers to track orders live on the map and easily contact their customer support and delivery specialists.
Wssel hosts several businesses, which include: restaurants, bakeries, ice cream shops, coffee houses, and even groceries, with no minimum order.
Countries of operation
Saudi Arabia.
Products offered
Mobile app
With Wssel's app, you can:
A. Accept and process customer orders quickly and easily.
B. Locate the delivery address with Google Maps.
C. Update your restaurant's ordering status instantly so that customers know if you're at maximum capacity or ready to receive more orders.
D. View information about your earnings and other details relevant to your business.
Pricing
Wssel charges a delivery fee on every order made on their platform. They also charge restaurants and stores commissions depending on the volume of deliveries.
Integrations offered
Wssel has API integrations that facilitate smooth ordering and delivery of products to your customers. Once you have set up your menu, you can retrieve, accept, and deny orders with the Order API endpoints.
Conclusion
The customer's need for food delivery isn't going away any time soon. That's why using a food delivery service is a surefire way of expanding your business's delivery potential and ramping up your sales.
Food delivery services can give thousands of new customers access to your restaurant's products, get your business's name out there, and increase the traffic coming into your restaurant as well as for off-premise dining.
Food delivery services can also streamline your workflow and optimize every aspect of your restaurant by taking the entire delivery process off your hands.
As a business owner, be sure to choose the food delivery service that best fits your needs and provides you with an overall seamless delivery experience.