10 tips for mastering voucher marketing
By Enas El Masry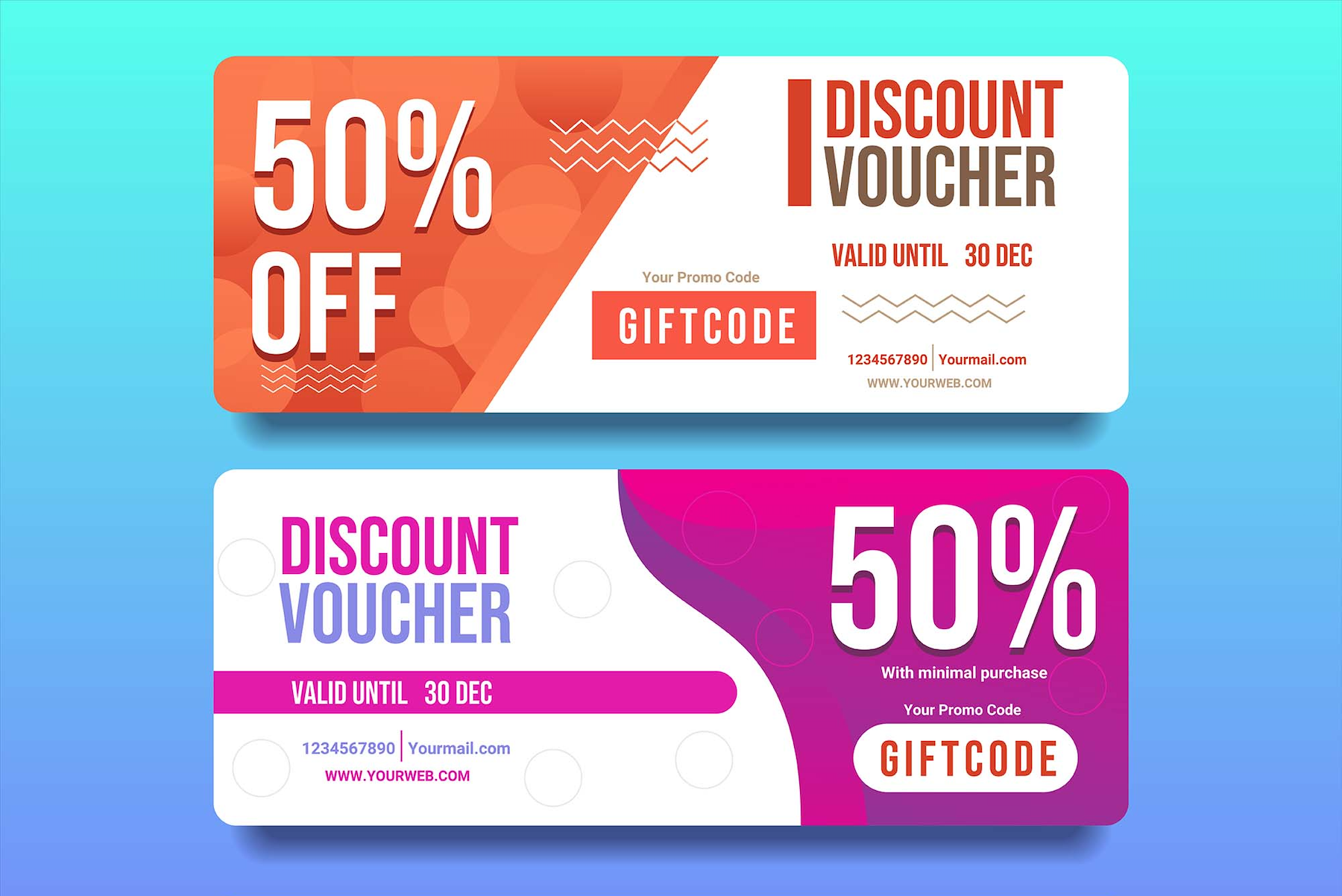 As a restaurant owner, we know you have one prime goal: increasing your restaurant's sales to grow your business. So, before launching your F&B business, you put a lot of effort, and a few dashes of love, into your menu's recipes. But now, it's time to cook up the recipe for your business success. And today's hero ingredient is restaurant vouchers.
Like many business hacks that boost sales, restaurant vouchers are backed by a lot of science. And this is what guarantees their success. But, before giving offers left and right, you should first understand how your customers respond to your coupon offers.
In this article, we'll dive into the psychology that makes restaurant vouchers appealing. We'll also walk you through the dos and don'ts of a successful vouchers campaign.
But first…
What are vouchers?
A voucher, AKA coupon, is a type of ticket with a defined value and can be redeemed for a specific product or service. To entice customers to redeem them, vouchers and coupons are always bound by a limited validity period.
In 1887, the first-ever coupons were printed to promote a new product which you may know today as Coca-Cola. Thanks to this novel and seemingly manic sales practice, Coca-Cola was being served in every single American state within eight years of its launch.
Since then, vouchers have spread to many industries like F&B, hospitality, airlines, and more. By the early '90s, the popularization of the internet introduced a new type of coupon: the e-coupon. At first, restaurants would distribute coupons at their stores or in magazines. And then, digital vouchers became available for download via email.
The next giant leap for vouchers took place with the widespread use of smartphone apps. Today, restaurants rely heavily on social media and mobile applications for voucher marketing.
This sounds great, in theory. Is it as flashy in practice, though? The answer is yes.
In 2020, 92% of shoppers based their shopping preferences on the availability of vouchers. By 2022, the value of e-coupon redemption is estimated to reach USD90 billion - more than twice the 2017 valuation.
What do vouchers offer?
Unlike other redeemable tickets - say gift cards - restaurant vouchers can offer several things. The most obvious type is discount coupons which give your customers a set percentage or value off their purchase (for example: 30% off or USD20 off). Other vouchers grant customers a free item - typically buy-one-get-one-free - or a free service - such as free shipping.
The malleability of restaurant vouchers means you can get as creative as you want with them. But remember: whatever your vouchers offer, they should help boost your sales, not take a toll on your business.
We'll dive deeper into the best voucher practices tips in a second. But before we tackle this topic, let us walk you through the psychology behind customers' love for vouchers.
What makes vouchers appealing to customers?
In 2019, around 31 billion digital vouchers were redeemed around the world. Wow, it seems like customers really love their discount coupons, don't you think? Why though?
You may think that the money-saving aspect is the reason people love vouchers. As reasonable as this guess is, the worldwide fondness for vouchers is actually a lot more emotional than it is rational.
Vouchers make people happy. It's that simple.
According to the 2012 study, Your Brain on Coupons: Neurophysiology of Couponing, participants who received USD10 coupons while grocery shopping experienced a 38% increase in oxytocin - aka the happiness hormone. They also appeared to be more relaxed and were 11% happier than other participants who didn't receive the coupon.
While discount vouchers make customers happy, a particular type of voucher seems to have the strongest influence on customers: gift vouchers. As one Atlantic article puts it: "People love free, people love food, and thus, people love free food."
Once you hit the "free" button, rationale takes a back seat, and emotions jump to the wheel. Let's say you have two vouchers; one of them is a discount coupon that offers 50% off any sandwich. The other voucher offers a buy-one-get-one-free. Both of them are essentially offering the same thing. Shouldn't customers react equally to them? The answer is no.
Market studies show that most customers aren't good enough at calculating fractions and percentages. Hence, a free gift feels more naturally rewarding than a discounted item. Music to your ears? Hold on. It gets better.
People are wired to give back to those who treat them nicely, otherwise known as reciprocity. This means that when you offer your customers free items, they will feel compelled to choose your restaurant over others when it's time for the next purchase.
Surely though, the gift must be of high value for the action to be reciprocated, right? Hmm, not quite actually. Dan Ariely, a behavioral economist at Duke University, tells The Atlantic that your gift can be as simple as a free sample or free delivery.
This claim is further supported by Kristina Shampan'er and Dan Ariely in their MIT paper Zero as a special price: The true value of free products. They write, "When considering promotions at a low price, companies should experiment with further discounts to zero, which likely will have a surprisingly larger effect on demand. "
This is all theoretically excellent, but we didn't land on the moon by marveling at theories. It's time to get your hands dirty, and we'll show you how to do it tastefully.
10 best practices to master voucher marketing

Let's begin by getting this no-brainer out of the way: If you don't plan your coupon campaigns carefully, they can - and will - harm your business. No matter how you intend on utilizing restaurant vouchers, they must, in the short-and-long run, benefit your business's bottom line.
First, you must ask yourself whether vouchers are the right strategy for your business. If the answer is yes, you can proceed with honing your plan further by asking yourself the following questions:
How do I want to position my restaurant in the market?

Do vouchers strengthen this positioning?

What kind of customers do I want to attract to my restaurant?
The more questions you can come up with, the more successful your use of restaurant vouchers will be.
So, without further adieu, here are 10 ways pro marketers use vouchers to increase sales:
1. Set a Goal
Any campaign you launch must have a core message, a specific target audience, and a measurable goal that tells you how successful your campaign was. To succeed, the campaign must have a specific start and end date. This applies to a coupon campaign as much as to any other marketing campaign.
We'll discuss the core message (see point 2) and the target audience (see point 3) in more detail. As for the measurable goal, it can be anything from the number of redeemed vouchers to the average size of the order within the campaign duration. Your vouchers campaign can also aim to acquire new customers, engage existing ones, penetrate a new market, or direct traffic to your newly launched online ordering platform.
2. Justify Your Discounts and Offers
Slashed prices and discount signs are as attractive to customers as light is to moths. But an unjustified offer can raise some unwanted questions. The most obvious are why would a restaurant reduce its prices unless it's losing customers and money? Why isn't the business doing well? Did customers have bad experiences there?
To avoid customers' minds wandering off where you don't want them to, tell them why you're offering them a discount. Are you celebrating a business milestone like 10 successful years? Is it Friends' International Day and all friends get a discount? Or maybe it's football season, and you're offering special discounts for big group orders.
3. Study Your Audience
If you want to grab someone's attention, get to know them well. In marketing communications, this is called customer profiling and segmentation. This practice involves studying your customers, understanding their preferences and what influences their decisions, and dividing them into groups with similar lifestyles.
For example, you'll call one profile 'Nahed,' an imaginary character who resembles one of your customer clusters. Nahed is a married working mother of two who has very little time to cook. She wants to stack her fridge with cooked or half-cooked meals that are healthy, filling, yet economically sensitive. It's Mother's Day, and you want all the Naheds out there to feel loved and appreciated. So, you dedicate a special discount coupon to them and call it "MamaLovin50." This voucher can be redeemed once anytime during Mother's Day week.
At face value, the voucher seems to be about making a segment of your customers feel seen and appreciated. But in reality, the purpose of this campaign is to advertise the half-cooked meals' menu to the Nahed segment. Based on your data, Naheds are likely to place recurring big orders if they like what they try during the campaign.
You may have already deduced this, but the more data you have about your audience, the more successful your segmentation will be. The more accurate the segmentation, the more fruits your voucher campaign can reap.
4. Pick the Right Time
Many, if not all, markets are very seasonal. They ebb and flow with events like holidays, sporting events, or even the start of the school year. Based on your restaurant's brand persona, market positioning, and customer profiles, the times you choose to launch a voucher campaign can make or break its success.
A generically good strategy is to plan your offers around the times when your customers would appreciate them the most. During Ramadan and Eid, for example, there's plenty that your customers will be spending money on. In a market that's competing to make consumers pay more, a business that offers a discount will certainly be appreciated, and the empathy will definitely be reciprocated.
5. Set a Theme for Your Vouchers
Every brand must have a clear tone of voice that is consistent and distinguishable. The same should apply to your voucher codes. For example, suppose you're running a casual or street food diner. In that case, getting creative and witty with your coupon codes is a perfectly suitable twist. For a more upscale restaurant, though, keeping it straightforward would be more in line with the branding and persona.
However you choose to play around with your voucher codes, make sure they are easy to read and remember. A customer who keeps entering a wrong discount coupon code because he misread it will undoubtedly get frustrated and may even abandon the cart. Yikes!
6. Give Out Promotions Conditionally
No matter how successful discount vouchers are, remember that offers should not be the norm. If your customers grow accustomed to your frequent discount offers, they may choose not to order your food unless it's discounted.
In addition to riding the market's seasonal wave and celebrating your success, another tasteful way to give away restaurant vouchers is to make your customer earn them. If you do something for the business, the business will reward you with a discount or gift voucher. Here are some examples:
Welcome Voucher: Want to entice new customers to try your restaurant? Offer them a first-order discount coupon. You can also use this opportunity to encourage potential customers to share their contact information with you. For example, you may publically announce that all new customers get a 20% discount on their first order. However, if a customer wants a 35% discount, they would have to share their email address so you can send them the special voucher code. You can later use this contact information to email them announcements and updates.
Minimum Value Voucher: According to this type of voucher, customers can only benefit from your discount vouchers if they place an order of a minimum value. This is especially useful if you want to raise the average order size.
Friend Referral Voucher: This is a very common type of voucher, and the great thing about it is that everyone wins. While you grow your customer base, both existing and new customers get to enjoy a discount.
7. Create Event-Specific Vouchers
Selling your food at events is a great way to introduce your restaurant to a new community. But what if people try your menu at this one event and never return? Encourage new customers to return to your restaurant by giving away special voucher codes to the event attendees and making sure they are valid only for a limited time.
8. Reward Loyal Customers
Discount coupons are an excellent way to show your loyal customers how much you appreciate them. Some restaurants do this through a loyalty program whereby customers receive points for every order. The more points they collect, the more rewarding the restaurant vouchers will be. If you don't have a loyalty program, you can set certain order milestones that a customer would get rewarded at. For example, you can offer them a 25% discount when they place their 25th order. Other restaurants go the extra mile by monitoring their social channels for customers who choose to promote their business on their personal accounts. Being grateful for your loyal customers isn't enough. You must let them know how you feel. How about giving them a gift or discount voucher? Not bad for a 'thank you.'
9. Promote Restaurant Vouchers Through Influencers
In the golden age of social media, many businesses have turned to influencers for marketing and endorsements. In 2019, 9 out of 10 marketers reported their satisfaction with influencer marketing, saying its ROI was as good or even better than other marketing tactics. To spice your marketing strategy more, try merging influencer marketing with vouchers to increase sales. Typically as a restaurant owner, you would reach out to influencers who are either foodies or relevant to your target audience, and you would ask them to post photos of your meals along with tagging your restaurant account. With vouchers, you would create a special discount voucher with the influencer's name on it that they would promote within their community of followers, urging them to buy your food, use the special code, and get a discount.
10. Adopt Early Bird Vouchers
Introducing a new product or menu in the F&B industry is costly and requires a lot of research, followed by plenty of trial-and-error. When it's finally time to release your latest creation, it may be quite daunting if it doesn't gain the anticipated traction at the hoped-for speed. So, give your new releases a boost by offering a limited discount voucher that applies only to, let's say, the first 30 people to try it. However, be careful with offering a new product at a high discount as it may influence the market's value perception. So, keep it on the low end of the discount range. If you want to avoid discounting its price altogether, you can offer your customers a free sample voucher with your best-selling meals that grants them a taste of your newest addition.
Putting it all together...
Once you understand the underlying science behind restaurant vouchers, they become as malleable and fun to play with as clay. Have you tried other voucher strategies that turned out to be successful?
Share your coupon campaign success stories, and we'll make sure others get to benefit from your expertise.