Restaurant Marketing
10 Decor and Interior Design Ideas For Restaurants
By Sarah Al-Waleed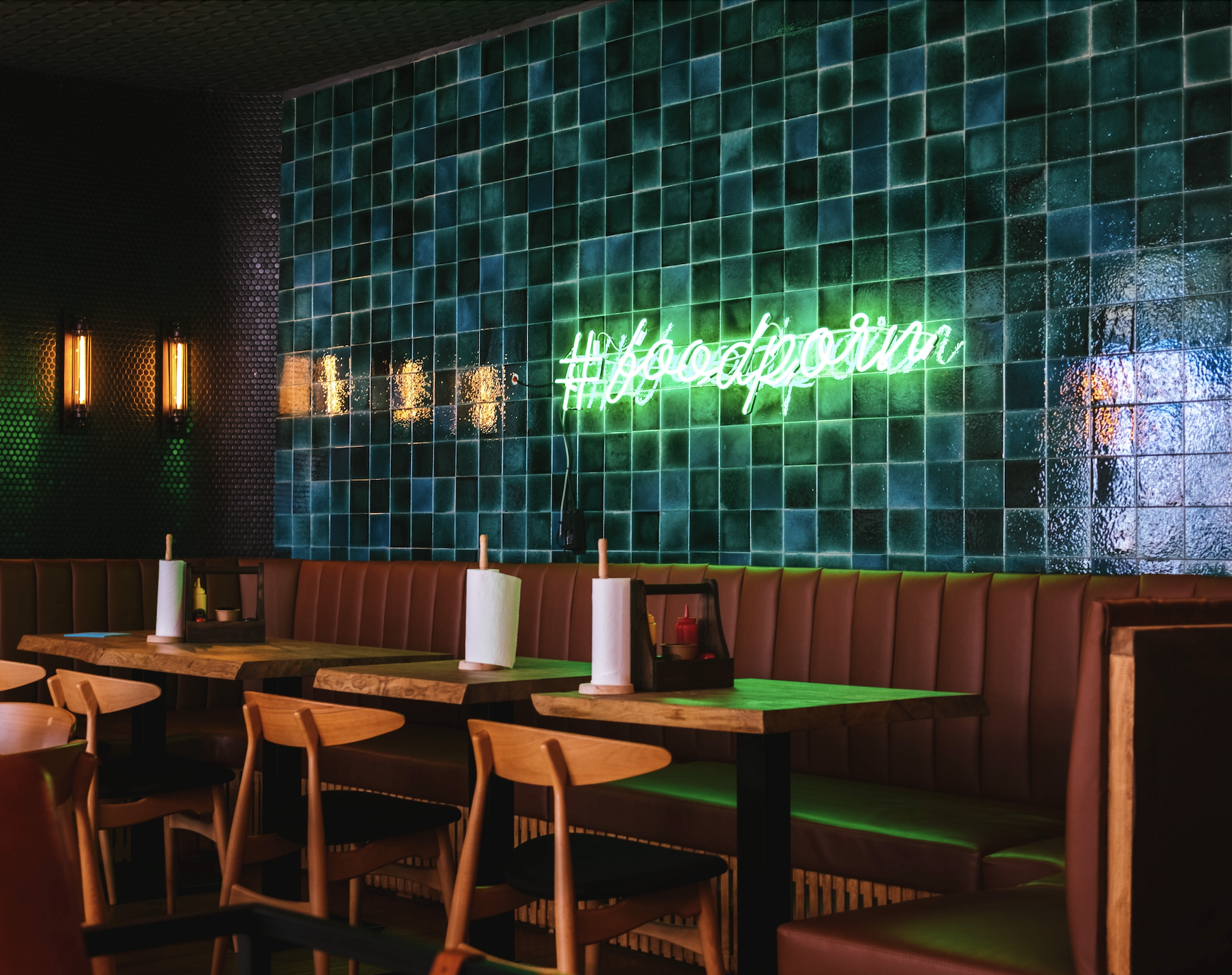 We all know that when it comes to the restaurant business, food is the star of the show. It's what keeps customers coming back to your restaurant time and again. That said, the quality of your food doesn't have to be the only area where your restaurant shines.
Giving your restaurant's decor and interior design some love can go a long way toward creating a memorable dining experience and adding value to your customers beyond their everyday orders.
A restaurant's aesthetics can create a feast for the eyes and an atmosphere that brings your brand to life. Not to mention that in the age of Instagram, interior design can act as a restaurant's silent salesman. This means that if your restaurant looks Instagramable, it will surely make its way to your customers' feeds and tempt their followers to give it a try.
So, in that spirit, we've put together this list of amazing decor & interior design ideas that are guaranteed to give your restaurant a glamorous boost.
Restaurant Decor and Interior Design Ideas
1. Decide on a concept
If you're still at the beginning of your journey, you should start by deciding on your restaurant's concept, then work your way up to its interior design. This is because your restaurant's concept will factor into many interior design decisions down the line.
For example, if you settled on an Italian concept for your restaurant, would it make sense to hang Chinese lanterns as light fixtures, or would warm-toned wall sconces be a better fit? Would you cover your tables in bland-colored tablecloths, or would red and white checkered tablecloths feel more authentic?
That's why deciding on your restaurant's concept should be the first step. Because it helps you stay true to your brand and enables you to hit the ground running with many interior design options and choices.
2. Make a grand entrance
Foot traffic and walk-ins will always be a big part of the restaurant business (unless, of course, you run a fine dining establishment). So, making sure the entrance to your restaurant is welcoming, aesthetically pleasing, and on-brand is a surefire way of drawing customers to your doorsteps.
Think about what potential customers see when they're walking by your restaurant and what will get them to walk through your doors. An eye-catching neon sign? A mural drawn by a local artist on your outside walls? A fountain in the entrance? Or maybe some captivating lights along your entryway?
There are several options you could try to lure customers to your restaurant. And you should definitely keep experimenting to see which one will give you that coveted curb appeal and drive in traffic.
3. Go green
Urbanization has been the ruling trend over the last few hundred years; people have been moving away from nature and into big cities. As a result, people feel like they've lost their connection with nature and crave it more than ever in their day-to-day suburban lives.
Infusing your restaurant with greenery can be a great way of bringing nature back into the everyday grind. Plants – natural or artificial – add an elegant and pleasurable visual element for your customers as well as employees. They also create a relaxing and positive space and make your environment healthier by increasing air quality.
So, decorate your restaurant with lots of greenery. For example, you can place plants on shelves, decorate entire walls with vines, or hang plants from the ceiling. That way, they won't take up floor space and will be eye-catching even from a distance.
4. Pick the right colors
Selecting the right colors for your restaurant can have a powerful impact. This is because people respond psychologically to colors, so much so that it affects everything from whether or not they'll come into your restaurant to how long they stay and how much they order.
For example, did you know that the color red is one of the best choices for fast-food restaurants? The reason behind this is that it stimulates impulse eating and provokes hunger.
At the other end of the spectrum, warm-toned colors such as brown are ideal for fine dining establishments. This is because they convey a sense of elegance and encourage people to relax and enjoy themselves.
This is the kind of power that a color choice holds. So, as a restaurant owner, you have to understand how color works and how to best use it to support your concept and vision.
5. Pay attention to the lighting
Lighting is one of the most influential elements in a restaurant's overall look and feel. And as such, it merits special attention when it comes to your interior design decisions.
The right lighting can bring many benefits to the table. It could be used to create an appealing ambiance for your guests, highlight focal points in your operations, and set the right tone for your establishment.
And when paired with complementing light fixtures, such as chandeliers, hanging pendants, or track fixtures, it can add more visual interest and reinforce your brand image.
6. Make space
If you've managed to nab a spacious venue for your restaurant, then kudos to you. But if your restaurant is a bit on the smaller side, there are several design tactics you could use to create the illusion of space and make your front-of-house (FOH) look bigger.
For example, you can strategically place mirrors to add depth or use stretch fabrics in the ceiling to create dimension. You could also choose light paint colors for your FOH since they're known to make walls recede in appearance.
Another good tip is installing booths positioned back to back. That way, you can fit more guests into the dining room and offer them a feeling of space and comfort.
And whenever possible, avoid oversized, cumbersome chairs and tables, as they can take up too much space and impede your customers and servers from moving freely.
7. Furnish sensibly
The right seating can set the scene for your customers' dining experience. Of course, it's not all about aesthetics. There's a lot that goes into picking the right furniture for your restaurant, such as quality, shape, and style.
When it comes to furniture quality, you should always think of it as an investment. You want the type of furniture that can stand everyday wear and tear for years and easily be wiped down and cleaned. Therefore, commercial furniture is the only way to go.
As for shape and style, your goal should be finding furniture that best reflects the aesthetics and concept of your restaurant.
For example, let's say that you're running a small, fast-food restaurant. This means that customers shouldn't spend much time in your restaurant, not if you plan on increasing table turnover and serving more people. Therefore, basic wooden or metal chairs and tables should be the ideal choice for your type of venue.
Alternatively, If you run an upscale restaurant, you want to radiate a more sophisticated look and an inviting atmosphere. Therefore elegant, upholstered furniture would be the most comfortable and luxurious seating option.
8. Incorporate wall art and murals
What better way of showing off your brand colors and personality than incorporating some art? If you have a lot of empty wall space, there are many options you could go for to utilize that space.
For example, you could commission a local artist whose work you admire to paint a mural. That way, you will show off the local talent in your community and draw in guests.
Featuring wall art and murals can also make you the talk of the gram! Which translates into more business. This is because wall art and murals are the perfect backgrounds for social media folks, snapping away to let their friends and followers know where they've been.
9. Bring your kitchen into the spotlight
The kitchen is the heart and soul of any restaurant. So, why not make it part of your restaurant's decor? A visible, well-tended, open-layout kitchen is not only an interior design hit, but it also creates a sense of excitement for your guests when they see their meals in the making.
And if you happen to have a unique focal point, like a dynamic sushi bar or a wood-fired pizza oven, don't be afraid to incorporate it into your aesthetics as well.
10. Use typography
Typography is another excellent interior design idea you can use to give your brand a defined, recognizable personality and reflect the vibe of your restaurant. And you can easily infuse it into the design of your restaurant walls, menus, and even placemats.
So, what next…
Now that you're armed with these helpful interior design ideas, you should be able to employ them to leave a lasting impression on your customers and keep them coming back.
Because while restaurants, cafes, bakeries, and all other establishments in the F&B industry compete with each other based on location and prices, very few take the win from the margins of interior design.
So, being fully aware of the rewards you stand to gain by paying attention to your restaurant's interiors puts you way ahead of the game and sets you on the path to success.